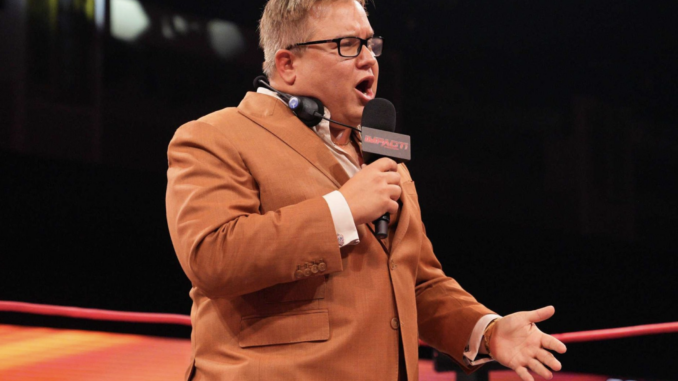 ---
SPOTLIGHTED PODCAST ALERT (YOUR ARTICLE BEGINS A FEW INCHES DOWN)...
---
IMPACT WRESTLING
SEPTEMBER 14, 2023
WHITE PLAINS, NY AT WESTCHESTER COUNTY CENTER
AIRED ON AXS TV
REPORT BY JOHN LASLO, PWTORCH CONTRIBUTOR
---
VIDEO TRIBUTE – HIT
While it was to be expected to do a quick video package, this one hit all the big moments, and big names that have passed through Impact over the years. I have to say that the narration got to me. Just the first of many plucks to the heartstrings on this episode.
INTRO – HIT
Hey, we don't own the night anymore! Or maybe we will again next week. I thought the new intro was kinda a throw back, and in many ways it was. There were a lot of shots involving the nostalgia acts that would be appearing on this show as well as the current stars.
SCOTT D'AMORE ADDRESSES THE AUDIENCE – HIT
A nice quick intro to get into the real meat of the episode.
KNOCK OUT DIVISION SEGMENT – HIT
While the video package was nice, and in some ways better than the full video tribute earlier in the episode, it was a prelude. This was probably the longest segment of the entire episode, and I would guess possibly longer than any of the matches. Part of that was the fact that almost everyone got their full entrance to the ring, with the full music and pomp and circumstance. It was incredibly indulgent and I for one loved it. It gave a good deal of pageantry to the proceedings that the video packages did not. I loved that they used this to bring back Mickie James and Tasha Steelz.
SHARKBOY BACKSTAGE SEGMENT – HIT
Shell, yeah! Ok, so Sharkboy is the assistant Director of Authority? Ok, I'll buy that for a minute. Let's see how it plays out.
(1) FEAST OR FIRED MATCH – HIT
I know that a lot of people don't like the Feast or Fired. I think a lot of that has to do with the fact that TNA used it to legit fire people without warning. It's a neat idea, and I think it only works in Impact. With people on per appearance for long periods, short term contracts, and the constant poaching of Impact talent by WWE/AEW, it works. TBH, I was a bit scared when I saw some of the entrants into the match. People like Steve Maclin, Jonathan Gresham, and Laredo Kid were surprise entrants to me, and made me real worried there for a second. There were a lot of great spotlight spots in this match, and all of them were very characterful, and furthering already existing storylines, like Crazzy Steve with the fork.
CHRIS SABIN BACKSTAGE INTERVIEW WITH GIA MILLER – MINOR HIT
Okay, let's give some stakes to the match later tonight.
(2) TEAM 3D (Bully Ray & Brother Devon) vs. DESI HIT SQUAD (Rohit Raju & Champagne Singh) – HIT
I love that Rohit Raju is back, at least for the night. Look, I'm going to be absolutely clear here, I am the target audience with a Team 3D reunion. I'm one of those guys who throws Team 3D into the conversation when talking about greatest tag teams of all time. I'd be lying if I said that Team 3D didn't play a massive part in me being a tag team guy. This was rose colored glasses for me. This match could do no wrong. Seven years apart, and coming out to the crowd on their side, music to my ears. That said, Desi Hit Squad, I would like to see you on TV. Team 3D, take your flowers, you have done the work, and we have shown that we love you. Now, don't wear out your welcome.
JOSH ALEXANDER AND THE RASCALZ BACKSTAGE – HIT
While he is younger than I am, Josh Alexander really puts out the weary dad energy. He's just tired of the crap the teens are putting him through. Those teens being just slightly younger than he is. This is a great build up for a match for next week.
JOSH ALEXANDER ADDRESSES THE AUDIENCE – HIT
This started out as a typical Josh Alexander has been an Impact Fan since episode 0001 and got interesting when Alex Shelley showed up. I love the contrast between these two men, and they have put out on a fantastic match in the past. Shelley is one of the back bones of Impact, and it wouldn't be the same without him, and as mentioned, the entire industry would look different without him. He's an innovator, but he's not the face of the company, Josh is. Playing up the cynical veteran and the bright future thing is often played out. In this case, it's playing out wonderfully. So good.
SHARKBOY BACKSTAGE – MINOR HIT
Sharkboy can set up matches? Aight. However, Kenny King had a point. He deserves a rematch for the Digital Media Championship.
(3) FRANKIE KAZARIAN & TRACI BROOKS vs. EDDIE EDWARDS & ALISHA EDWARDS – HIT
I was salivating about this match. I've wanted this mixed tag match for a LONG time, and they were teasing it for just about as long. It was a good match, but to be honest, the real bit was the end when Frankie Kazarian got to tell his wife, Traci Brooks, that she would be inducted into the Impact Hall of Fame. Playing another tune on the heartstrings there, Impact.
LIO RUSH BACKSTAGE INTERVIEW WITH GIA MILLER – MINOR HIT
Here's the response from Rush about the earlier comments from Sabin.
TOMMY DREAMER BACKSTAGE VIGNETTE – MINOR HIT
Tommy Dreamer said that he would defend the DMC anywhere, so possibly a variation of the old WWE Hardcore or 24/7 belt? I would dig that. No one has done that idea right, and the Digital Media Championship could do it right. With the availability of live streaming on so many platforms, you could do random matches whenever and wherever. That's just hopeful thinking on my part.
(4) LIO RUSH (c) vs. CHRIS SABIN — Impact Wrestling X Division Title match – HIT
This is what I mean when I say that Impact is the wrestling fans' wrestling show. Chris Sabin was at the top of his game, and he elevated an already impressive Lio Rush. This was one of the great examples of an X-Division match. It started with every exchange happening at lightning speed, and there were high flying moves, and even some submission exchanges. There were points where you could see Sabin's experience served him well getting in feints and tricks. I'll be honest, this was a match that is better than, say, 80% of the matches that I've seen at Wrestlemania, and it was on regular TV. Yes, a special episode, but still regular weekly TV.
OVERALL THOUGHTS – HIT
I love a nostalgia show. Especially one that I've been waiting for. Double especially one with the matches that I wanted to see. I know that this card wasn't built specifically for me, but sometimes Impact does that, it just SEEMS like something made just for me.
---
RECOMMENDED NEXT: IMPACT WRESTLING TV REPORT (9/14): Lilly's report on Impact's 1000th episode, the return of Team 3D, Sabin vs. Rush
OR CHECK THIS OUT AT PROWRESTLING.NET: Impact Wrestling TV results (9/14): Moore's review of Impact 1000 with Lio Rush vs. Chris Sabin for the X Title, Team 3D reunites, Eddie and Alisha Edwards vs. Frankie Kazarian and Traci Brooks, Feast or Fired