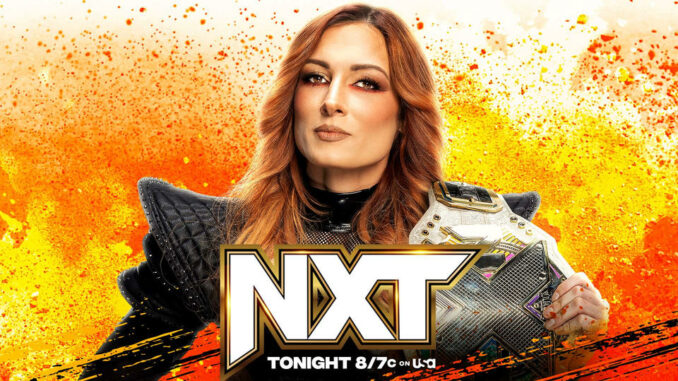 ---
SPOTLIGHTED PODCAST ALERT (YOUR ARTICLE BEGINS A FEW INCHES DOWN)...
---
TYLER BATE vs. BUTCH – GLOBAL HERITAGE INVITATIONAL
Both men representing their home country, England, Butch and Bate squared off in what was potentially my favorite match of the entire Invitational thus far. The British wrestling scene is quite intimate and Butch and Bate have been opposite each other in the ring for years, in and out of NXT. Their chemistry is off the charts.
When you take two wrestlers of this caliber and then add the chemistry, you get pure magic.
For example, superplexes are a dime a dozen. But the Big Strong Boy held Butch up in a stalling superplex from the second rope for a solid 10 seconds before falling to the mat. Or the fact that they took time to actually sell offense.
It's a shame that the crowd didn't seem as into this match as I was, as most people seemed to be bored or on their phones. No, it wasn't high-flying flippy stuff. For the most part there was a lot of brawling and technical wrestling, which is certainly what a mainstream audience wants to see. So, I fully acknowledge that I may be in the minority with my love for this match.
Oh yeah, and then MetaFour was watching the match from that platform above the crowd dressed as the crew from The Matrix. I'm hoping I missed something and they explained why… because it seemed very out of place. Not for them to be watching, of course. But for them to be in Halloween costumes before October even begins.
These matches have 12 minute time limits and the match went to 11:50, as Butch scored a pinfall and secured his spot as the Group A winner.
Verdict: HIT
DUKE HUDSON vs. JOE COFFEY – GLOBAL HERITAGE INVITATIONAL
While I still enjoyed the opening match a bit more, this was also a pretty fun match between two brutes. Duke Hudson, Chase U's heavy, and Joe Coffey, the leader of Gallus.
A lot of back and forth action between the two, but Coffey managed to outwrestle Hudson at nearly every turn. Which should have been the first thing that tipped me off on Hudson's win. The second thing was the fact that they kept talking about how if Hudson won, the Group B bracket would be thrown into chaos with a three way tie… or a four way tie as Vic Joseph clearly said on commentary.
That mix up was cleared up pretty quick though as they announced the triple threat between Coffey, Hudson and Frazer for later in the night about 20 seconds after Vic's slip up.
Verdict: HIT
ROXANNE PEREZ vs. LOLA VICE
Two women who claim to have the NXT Women's Title in their sights, but only one with an actual chance of it. Now, that's not a knock on Lola Vice, that's more of a knock on predictable booking. Roxanne Perez has been one of NXT's leading women for more than a year at this point and is a former champion. I'd be surprised if Vice showed up in the title scene with Becky Lynch involved before Perez was.
Lola Vice held her own against Perez, however. She's certainly improving in the ring, and I'm looking forward to seeing what more she has to offer as time goes on.
Verdict: HIT
DOMINIK MYSTERIO vs. CARMELO HAYES – CHAMP vs. CHAMP
Last week, Dominik approached Melo backstage and said that since the NXT North American Championship was the "A Championship" according to Melo himself, that his title means more than Melo's NXT Championship. Of course, that didn't sit well with Melo and this match was made for tonight.
You know, I really need to hand it to Dominik. When he came into the company and bypassed NXT, he wasn't ready. He was green and it was clear that he needed to be in a developmental territory. But, he persisted. And persisted. And got better. And better. Both with his incredible character work as part of the Judgement Day and his in-ring acumen. Carmelo Hayes is one of the best in-ring talents that NXT has to offer, and Dirty Dom was able to have a great match with him. The crowd was into it, as was Ilja Dragunov sitting ringside. Dragunov faces Melo for the title at No Mercy, so scouting your competition certainly isn't a bad thing.
Dragunov wound up getting hit at the announce table twice, seemingly accidentally by both Melo and Dom respectively. But when he was hit the third time, slapped in the face by Dom, he snapped and took out both Melo and Dom. Though it did seem like Melo was hit accidentally, which has been the basis of their rivalry for months anyway.
Verdict: HIT
NATHAN FRAZER vs. JOE COFFEY vs. DUKE HUDSON – GROUP B TIEBREAKER
As mentioned earlier, Group B came to a three way tie and it was determined that the tiebreaker needed to happen tonight. For some reason. Completely unfair to the two competitors who already had a match tonight. Nathan Frazer came into this match with a huge advantage in that regard.
However, Duke Hudson received a massive Andre Chase pep talk before the match and that seemed to be the boost he needed to become a fan favorite to win the matchup. Duke dominated throughout the match and looked like he could potentially upset Group B and be the unlikely victor.
Joe Coffey wound up taking the match, which completely eliminated my pick of Nathan Frazer to face Noam Dar in a rematch for the cup.
Verdict: HIT
BECKY LYNCH & LYRA VALKYRIA vs. KIANA JAMES & TIFFANY STRATTON
Kicking off the show tonight, Becky Lynch hit the ring as our new NXT Women's Champ. Eventually Tiffany Stratton made her way to the ring and a fight broke out between the two. Kiana James came in to make the save for Stratton. Becky overpowered both of them and challenged them to a handicapped match later in the night.
Becky as Champion is fantastic. It's putting eyeballs on the product which is only going to be an overall net positive for NXT. Sure, some NXT stars may take a backseat to main roster talent like Dom or Lynch. But, more eyeballs is more money for everyone.
When the match went to begin, Stratton and James attacked Lynch during her entrance and began attacking her before the bell rang. Lyra Valkyria ran out to the ring to help Lynch turning this into a tag match.
Big time Becks and Valkyria worked very well together as a team and picked up the win over the two mean girls of NXT. Stratton grabbed a chair after the match and attacked Becky, then held the title high in the air in a mocking manner. Before the show could end, Becky said that their match at No Mercy will be Extreme Rules.
Verdict: HIT