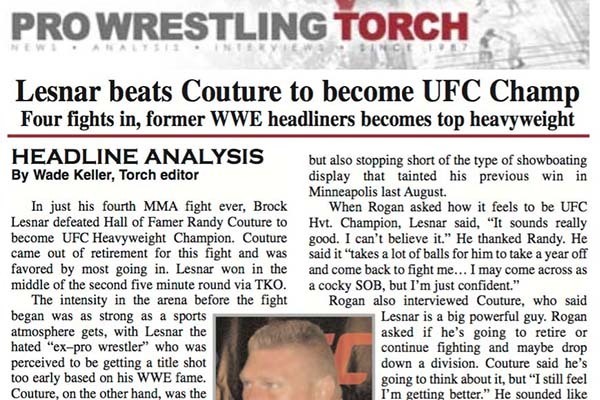 ---
SPOTLIGHTED PODCAST ALERT (YOUR ARTICLE BEGINS A FEW INCHES DOWN)...
---
This month marks the 25th Anniversary of Bruce Mitchell becoming a Pro Wrestling Torch Newsletter columnist. No single person has influenced the editorial tone and direction of the Torch brand over the years than Bruce, who brought a hard-hitting, supremely well-informed, speak-truth-to-power approach to his writing. He went after sacred cows out of the gate, such as the beloved among "smart fans" (today's "Internet fans" or "IWC," I suppose) Eddie Gilbert and Jim Cornette. He also went hard after people in positions of authority and power who were abusing or misusing that power, or just not delivering a worthy product. He has also applauded and paid tribute to the greatest moments and movements in pro wrestling over the last 25 years, with a style of writing that has yet to be matched anywhere, I contend (despite Bill Simmons's arrogant and uninformed contention last year that no one wrote at a high level about pro wrestling until his "Masked Man" columnist came along).
To celebrate and highlight Bruce's stellar 25 years of influential and eloquent truth-telling about this fascinating industry, we'll be featuring a single column from each of the last 25 years each of the first 25 days this month. His long-form columns were a pioneer approach to pro wrestling journalism, and the next 25 years you'll experience a slice of what it is that has earned Bruce Mitchell widespread recognition within the industry over the years as being "Pro Wrestling's Most Respected Columnist." We began on Oct. 1st with his very first column, from Pro Wrestling Torch Newsletter #89 (cover dated Oct. 5, 1990).
Today we feature his column from the November 22, 2008 edition of the Pro Wrestling Torch Weekly Newsletter (#1054) titled "Brock Lesnar really did it this time," Bruce writes about the ramifications of Lesnar's UFC Heavyweight Title victory that previous weekend.
NOTE: VIP members can access hundreds of Mitchell columns instantly in the BRUCE MITCHELL LIBRARY here, part of the massive unmatched online archives of insider wrestling coverage from over the past 28 years.
This entire issue including full staff coverage of Lesnar's win is available as a PDF for VIP members at this link.
===
HEADLINE: Brock Lesnar really did it this time
PWTORCH NEWSLETTER #1054
COVER-DATE: November 22, 2008
It's not just that he won the Ultimate Fighting Championship's heavyweight championship Saturday night, and laid claim to that much-coveted Baddest Man on The Planet (White Man's Division) title. It's not even that he abruptly dropped the sport's beloved legend, Randy Couture, leaving Couture's fans shocked and heartbroken, with many of the Las Vegas on-site fans in tears.
Well, actually it is those things, because by doing them Brock Lesnar simultaneously sent lightning bolts straight through two huge, completely different fan-bases, and infuriately bonded them even closer together.
UFC fans hate the guy with a passion, and you can take your pick as to the reason. He's a jacked-up, cocky bully-boy. He was booked for a lucrative main-event the minute he walked in the door, passing right over athletes who had worked and sacrificed their whole lives to proudly start at the bottom and work their way up. He fought all of two times in the Octagon (even losing his debut match – in a minute and a half) before he got (and, in many fans' minds, never earned) a heavyweight title shot. He got the first big-money match as perhaps the biggest, most popular legend in the game, "Captain America" Randy Couture, returned to the UFC, big-footing fighters with better records in the process.
No way he deserved that title shot, no matter what the paid-by-UFC announcers might have spun during the show…
Well, no way he deserved the shot – except one. He won the fight. Brock Lesnar is the UFC heavyweight champion. A fake-ass pro wrestler holds what is now the biggest title in the sport, and he is now the scariest bad-ass and biggest star in the whole UFC. Brock Lesnar put the lie to all the MMA purists who didn't want him there, and yet are more than willing to pay to see him lose, and now lose that title, and that fact makes them even madder.
But then there are the pro wrestling, hell, the WWE fans. Brock Lesnar abandoned them. Most WWE fans, and certainly WWE itself, have abandonment issues. They don't look at it like Dewayne Johnson shows the world that WWE entertainers have the potential to become the biggest of movie stars; they just miss the excitement (and revenue) that could have been if The Rock had stayed in the WWE Universe.
Brock Lesnar jumped over a lot of other guys with more tenure to get to the big-money main events in WWE, too. Then he quit, walking out on a valid contract. Hell, he broke that valid contract – in court.
At least he had the decency to fail as an NFL player, so WWE could again enjoy what happens to talent who walk away from their watchful guidance.
Now, though, he's overcome the one stigma no WWE great, from Bruno Sammartino to Hulk Hogan, from Stone Cold Steve Austin to John Cena, ever could. Brock Lesnar is no longer the Next Big Thing. He's the Real Thing. WWE.com's petulant attempt to make that reality a liability meant nothing to anyone who ordered the show.
Make no mistake, though, WWE fans ordered that show. UFC 91 may not have gotten that 1.2 million buys the company hoped for before the economy collapsed, but UFC officials, based on what happened to the buyrate of the shows Lesnar appeared on previously, expect that Brock Lesnar's appearance added an extra 400,000 buys to the show.
The man who walked out because he wasn't tough enough to hack the WWE life, Brock Lesnar, is now a bigger star than John Cena, Triple H, The Undertaker, Mr. McMahon, or anyone else in the multi-national corporation. (I wonder if Shane McMahon was thinking about that when Lesnar knocked out Couture, or if he cheered loudly. He's a big fan, you know.)  
So what does WWE do about all of this?
Not much.
What does UFC do about it?
They ride Lesnar for as long as he's credible, and that will be a matter of years now, and make  lot of money.
And what about all those angry fans?
They keep paying for the privilege of seeing Brock Lesnar lose, if he loses. Then, at some point too, they'll pay to see him win.
END COLUMN
CHECK OUT PREVIOUS YEARS' SELECTIONS OF BRUCE MITCHELL COLUMNS OVER THE LAST 25 YEARS: CLICK HERE