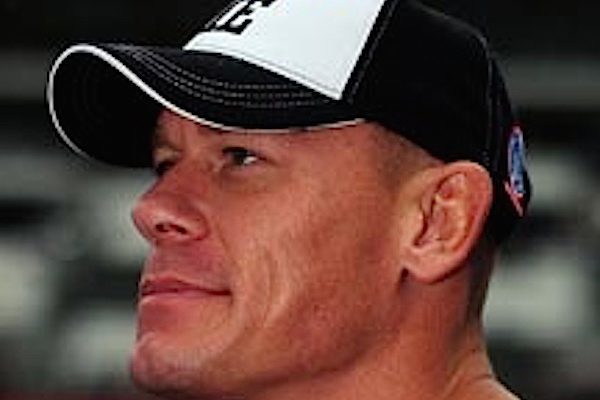 ---
SPOTLIGHTED PODCAST ALERT (YOUR ARTICLE BEGINS A FEW INCHES DOWN)...
---
There has been a significant shift in John Cena's approach to talking about his WWE career in interviews. It's almost unrecognizable.
In the latest mainstream media interview, this time with GQ, Cena almost seemed resigned to his position in the world at the age of 38, having spent ten years on top of WWE, yet still being disliked by a significant portion of the audience and perhaps not being recognized for his efforts in that difficult top spot.
"Because I've been in it so long, and if you look at ("The Rock" Dwayne Johnson), he had tremendous success in the WWE, but his success was short-lived when he left full-time for Hollywood. I think he had to do a tremendous switch, but I know he had the ultimate goal for coming back to the WWE and making it a better place," Cena told interviewer Jake Woolf.
"But for me, at this point, so much of our audience loves me, and so much hates me, I kind of just realize I am who I am, and I am John Cena, I'm not 'The Rock.'"
"At my age, I'm not trying to score cool points. I'm just excited when I can speak to younger members of our audience in the WWE. I just get to be a superhero to kids, but I'm not trying to be on the cutting edge of style or anything like that. Once you reach that point of deprivation, you don't mind it."
And the idea of doing another rap album that Cena has at times talked about? "That's a young man's game," Cena said. "If you're gonna expect music, it would be a soul, R&B, ratpatck type of thing. Maybe classic."
Classic music and John Cena? "Every once in a while I'll listen to hip-hop, but it's all stuff from the '90s. I'm kind of out of touch with everything," he added.
At this point, Cena is just happy to be included in pop culture through Twitter memes.
"When pop culture is kind enough to let you in, exploit you, and in a lot of cases make fun of you, and you're just gonna be the vehicle to push this new gag, I totally embrace it," Cena said. "Whether it's in praise or total humor, I don't care. Just to be accepted at this point in my career, I think it's pretty special."
After trying to build a connection with the WWE audience for ten-plus years being the top star, Cena said he actually feels the most comfortable on movie sets working with comedy stars like Tina Fey, Amy Poehler, and Amy Schumer.
"That was the most rewarding and humbling feeling. It's not like they were trying to be negative at all. They just wanted me to be funny, and wanted me to be me," Cena said. "I can't thank them enough for helping someone like myself, who felt truly nervous, feel comfortable."
[ FYI: Cena appears in the new "Sisters" movie with Fey and Poehler out this weekend. ]