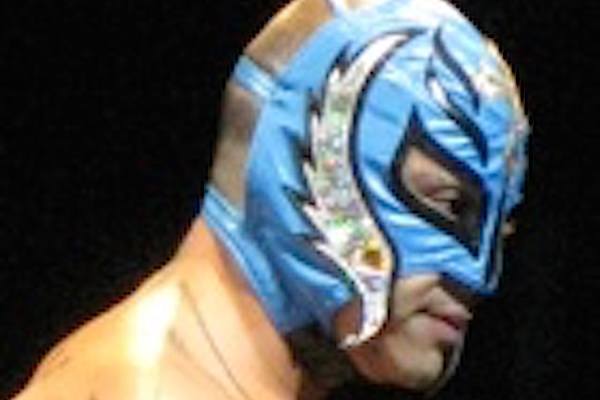 ---
SPOTLIGHTED PODCAST ALERT (YOUR ARTICLE BEGINS A FEW INCHES DOWN)...
---
The unfortunate reality of the situation is that 205 LIVE is not viewed by many wrestling advocates. It currently ranks 14th on the WWE Network and having it airing at such at late hour immediately after one of the better shows WWE has right now (SDLIVE) doesn't help. It's also baffling that 205 is still being presented as a live show considering NXT has found a fantastic formula of taping programs in front of engaging crowds that has claimed the #2 spot in terms of viewership. While the Purple Brand isn't nearly as solid in terms of storytelling as NXT is 205 has been progressively getting better in terms of in-ring action and advancement of characters. (Raises Glass) Here is to hoping WWE eventually finds the correct algorithm in presenting the cruiserweights because their current roster includes some of the most talented workers living today. WITH THAT SAID:
Let us go back to the greatest decade that hath ever been created by our great creator, not just in terms of professional wrestling, but music, movies, politics, and fashion. I'm talking of course…about the glorious 90s. Was there ever a better time? (I'm being sarcastic, but am I?) If there is one complaint to be made about the once great fallen king of the 90s culture it is that we the wrestling community did not have an outlet for our creative frustrations. We did however, get introduced to some innovative technical rasslin styles thanks to the boom of the mainstream appeal of wrestling promotions like WCW, ECW, and of course the Mill Muertes of professional wrestling, the WWE. Here are 5 guys from that era who could have been an incredible fit for the 205 roster.
SPOILERS: YOU MAY NOT AGREE WITH THIS LIST. THAT'S COOL…GRAB A PEN AND MAKE YOUR OWN LIST.
SPOILERS PART 2: A FEW GUYS ON THIS LIST ARE STILL CURRENTLY WRESTLING. THE IDEA IS TO HAVE HAD THEM AT A MUCH YOUNGER TIME IN THEIR LIVES. IF YOU THINK THAT IS CONTRADICTORY TO THE PURPOSE OF THE LIST…WELL I DON'T CARE COME AT ME. #fightJGfight
REY MYSTERIO
OH LOOK IT'S ONE OF THE SAID SPOILERS I JUST MENTIONED. Yes "Rey Rey" has already had quite the run in WWE and most fans (including myself) had grown tired of his repetitive shtick and watered down move-set. The reality of the situation is that Mysterio suffered numerous injuries to his knees limiting his former abilities and his few short-lived main event opportunities were at the expense of the death of Eddie Guerrero. But as a child during the Monday Night Wars the excitement of Rey Jr. coming to the ring in his bright colored tights (GO TO HELL BAGGY PANTS.) was beyond explanation. The kid was 19 years old and doing things that NO ONE had ever seen unless you were a Luchador connoisseur because again, wrestling was at the height of its mainstream popularity in the 90s. If you still aren't convinced that Rey would be (and still could be) a great fit for the 205 roster I urge you to watch his current run in Lucha Underground which is hands down some of the best character traits he as ever shown and a return to the unpredictable ring general he was that won our hearts in the first place. Watch him go the distance in Aztec Warfare 2 and tell me you don't want to see him feud with LORD NEVILLE.
ULTIMO DRAGON
I still need to remind myself that Ultimo did have a run in the WWE. He was signed not too long after Mysterio, but his popularity wasn't strong enough to maintain the same level of fame that "Rey Rey" had. That isn't to say that the guy wasn't successful. Between 1996 and 1997 he held and defended 10 championships AT ONCE (which is still a record) including the entrenched WCW Cruiserweight title. He was also the perfect antagonist to young Mysterio, being presented consistently as the "foreign" heel with established manager Sonny Onoo. What made Dragon so exciting was his VERY diverse move-set and styles. He maintained a high-flyer personae while laying into his opponents with Martial Art strikes and strong-style submission holds. Ultimo may not have been known for his promo skills (At least to American audiences) but he was an intriguing storyteller inside the squared circle. The idea of him standing across the ring from the non-speaking role of the division currently (Akira Towzawa) would create one of those dream match scenarios that will probably NEVER be talked about.
GILLBERG
Now hear me out. Every current member of the 205 roster is oozing with astounding abilities and almost supernatural athleticism. I mean even Tony Nese, a guy who is right at the brink of the 205 weight limit can still do a spring-board moonsault as easy as flexing his abs. You also have your Jack Gallagher and Noam Dar's who combine their physical traits with some charismatic mic/character skills. (Although Noam should be the FBI's most wanted man in terms of SLEAZE.) If there is one thing that the Purple Brand needs…it's jobbers. Gillberg's entire premise was to be a comedic parody of a POSSIBLE UNIVERSAL CHAMPION Goldberg, and be defeated as quickly as Goldberg would defeat. He was hilarious, had a fighting spirit, and even held the WWE's Light-Heavyweight championship so the man has credibility. This would also help the 50-50 booking that has become so routine for the main roster, but with 205 having such a limited set of guys having them each "win one lose one" just creates some frustrating television. Bring on the fire extinguishers and let the real holder of the streak enhance the talent. Oh if only it were 1998 again.
SUPER CRAZY
Another guy who made a brief WWE appearance. In 1997 Super Crazy was working under the name "Super Loco" (CLEVER VINCE) and only had one main show appearance where he lost in a light-heavyweight championship tournament. Crazy would make major splashes in Extreme Championship Wrestling where his blood feud with Tajiri still holds up as one of the best rivalries of the ECW songbook, and can even be found on the WWE Network promoting the Cruiserweight Classic. If you've never seen him work…well there is nothing incredibly subtle about the man: HE IS BAT-SHIT INSANE and makes the Lunatic Fringe Dean Ambrose seem like Morgan Freeman in Bruce Almighty. It is this type of "off-the-wall" alternative character that the 205 brand could make us of. He wouldn't necessary even need to win to keep up his gimmick up, and it is in these types of additional layers that make a wrestling program feel more universal, relatable, and exciting.
DEAN MALENKO
There is a sole reason that "the man of a 1000 holds" claims the top spot of this list. In the late 90s…I hated Dean Malenko. HATED. Hated for the same reasons someone would hate Floyd Mayweather, Conor McGregor, or the New England Patriots, (Seriously Falcons what are you doing passing the ball on 3rd and 1?) The guy found ways to beat you. He was a MASTER TECHNICIAN. He would wear you down, target a limb, take advantage of the slightest mistake, and cause you a great deal of pain and heartache in the process. My memories of a typical Monday Night Nitro always include an NWO segment, a Goldberg Squash, "What about Raven," and Dean Malenko holding the cruiserweight strap. As I've grown older I enjoy re-watching primetime Dean is his WCW glory days because like Ultimo Dragon, the bro could tell a story without even uttering a word. His promos never bothered me. They were neither very good nor very bad, but he had that stare. THAT TOM HARDY ESQUE STARE where it meant trouble if you were in his path. His run in WWE wasn't as exciting as it could have been, but there is no one to blame on either end. He came to the promotion at a time when WCW had slowly faded away and the Austin era was upon us, but there is a no questioning why this guy was named the best technical wrestler in the world in 1996 and 1997.  There is no questioning that his feud with Chris Jericho was a FIRECRACKER HIGHLIGHT of the cruiserweights for Ted Turners organization and his undercover reveal as Ciclope against Y2J is still one of the best mask reveals of all time. Would he work on the 205 roster? I think so, because if you go back and watch his matches, even as a bad-guy the fans LOVED HIM. There are a lot of wishes I wish I could wish upon the wrestling industry, one of them is getting back The Ice-Man. Until then, let's just watch this clip on repeat and sigh. https://www.youtube.com/watch?v=MDBctT036lo
What do you think guys? Do you agree or disagree? Feel like I didn't give enough love to La Parka, Psichosis, or even Taka or Funaki? Comment below and let's get those creative wrestling juices flowing. (That sounds gross being said out loud.)
Follow PWTorch contributor Joey Galizia on Twitter @RAMJAM89.
---
NOW CHECK OUT LAST WEEK'S ARTICLE: TOP FIVE LIST: The Top Entrance Themes in Pro Wrestling – Did anything get left off that absolutely belongs on the list?