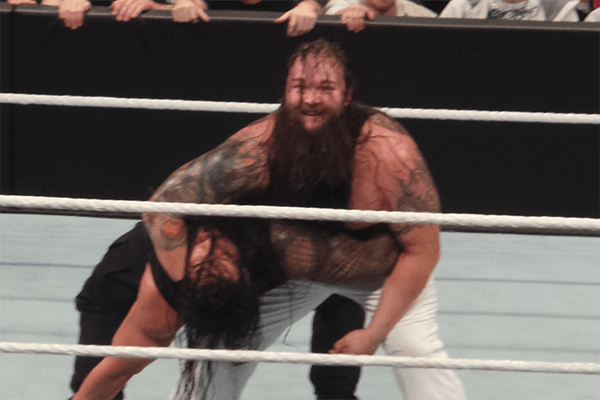 ---
SPOTLIGHTED PODCAST ALERT (YOUR ARTICLE BEGINS A FEW INCHES DOWN)...
---
WWE LIVE EVENT REPORT – RAW & SMACKDOWN
MARCH 12, 2017
NEW YORK CITY, N.Y. AT MADISON SQUARE GARDEN
REPORT BY JIMMY FROM JERSEY, PWTORCH CORRESPONDENT
I've been listening to your various shows on PWTorch for years and attended the MSG show today, so I decided to take make observations in addition to giving you results (although you may have gotten those already)
I would say the attendance was around 16,000 (the Garden holds around 18-19K). There were several seats open at the beginning, however they were mostly filled by the first match.
Shane McMahon opened the show. His kids were at ringside. He was emotional in talking about being back at MSG since his return. A.J. Styles interrupted him to a large ovation despite being advertised to appear in some capacity.
Shane and Styles took verbal jabs until Shane reiterated that he thought Styles is the best in the world and decided to give him another shot at the WrestleMania main event. Randy Orton's music hit and the crowd erupted.
(1) Randy Orton defeated A.J. Styles in 12:00. Really good match. Not advertised beforehand. Randy Orton is in MUCH better shape than when he returned from injury last summer. It's more noticeable in person than on TV.
(2) Heath Slater & Rhyno & Kalisto defeated Curtis Hawkins & Breezango in 5:00. Standard mid-card match. Surprising pop for Slater & Rhyno.
(3) Dolph Ziggler defeated Apollo Crews in 8:00. Despite being a heel, Ziggler took a picture with a fan at ringside who had a sign for him.
(4) Dean Ambrose defeated Luke Harper, Miz, and Baron Corbin in 14:00. Really good match. This is awesome chant for a brief period of time. Ambrose wasn't selling the rib injury from SD despite recapping the segment on the screen in the arena.
(5) Brock Lesnar defeated Kevin Owens in 3:00. This was definitely the most puzzling part of the night. They barely hyped the match throughout the show leading up to it, and then just had KO's music play almost immediately after Ambrose was done posing on the stage. KO ambushed Lesnar before the bell, pulling Lesnar's shirt over his face. The beginning seemed to play off of the Goldberg/Lesnar Survivor Series match with Owens attacking Lesnar quickly and hitting a cannonball and swanton for a two count. The rest of the match was business as usual and back to Lesnars old formula for matches: three Germans (one off the top rope which was cool) and an F-5. Crowd was hot for the match.
A video package played during intermission for Asuka. Surprisingly, a large majority of the fans knew who Asuka was and was chanting her name to get into the match early on. For what it's worth, they were selling Asuka masks at the merchandise stands, indicating a call-up is highly likely post-WrestleMania.
(6) Nikki Bella & Asuka & Becky Lynch & Tamina defeated Alexa Bliss & Carmella & Mickie James & Natalya in 10:00. Whereas earlier matches in the show didn't stay within the story lines of Smackdown Live, Mickie & Alexa played off of the turn by Mickie. Mickie refused to tag in and even attempted to hit Alexa during the match. The crowd seemed unsure how to act towards Tamina as she really didn't interact with the fans on her way to the ring like the other face women on her team did. (I was right near the guard rail.) Asuka submitted Carmella in the Asuka lock for the victory.
(7) America Alpha defeated The Usos in 8:00. This was very good. The crowd was into it, chanting for both teams. I was actually buying the fact that the Usos could win after throwing Jordan out of the ring and Jey hitting a super kick on Gable while Jimmy hit a splash for a strong near fall. Alpha scored the pinfall after a reverse Doomsday device.
(8) Bray Wyatt defeated John Cena to retain the WWE Championship in 30:00. Really good match. Strong near falls. Bray got himself intentionally counted out when Shane came out to restart the match under no holds barred rules. Tables and chairs were used. Wyatt won with a low blow after Cena kicked out of Sister Abigail and Wyatt kicked out of an AA. After, Wyatt got on the mic asking where everyone was going and telling the crowd he hates John Cena and wanted to end his career. Wyatt went for a suplex on Cena when Cena reversed into an AA sending the crowd home happy.
FINAL THOUGHTS: Overall this was a good show. Wyatt really showed he can handle a WWE style main event and played the heel well, although enough fans were behind him warranting a face turn in the future. WWE will return to MSG on July 7th as part of the SummerSlam Heatwave tour, it will be a Raw branded event.
NOW CHECK OUT THIS LIVE EVENT REPORT: 3/11 WWE in Fairfax, Va.: Bray vs. Harper, Styles vs. Orton, Ambrose vs. Corbin, Bliss vs. Lynch, Alpha vs. Usos
---
Please send any news tips and results to: pwtorch@gmail.com. For instance, let us know if you hear a pro wrestling reference on a popular talk show, see a pro wrestling related Tweet or Instagram from celebrity, hear an ad for matches advertised for an upcoming WWE event, or anything else pro wrestling related that'd be of interest to our readers. 
If you attend a live event, please send results. We don't set up correspondents ahead of time and count on readers like you to send an email with a report on live events you attend – not just WWE, but also ROH, NXT, international groups. and anything else.