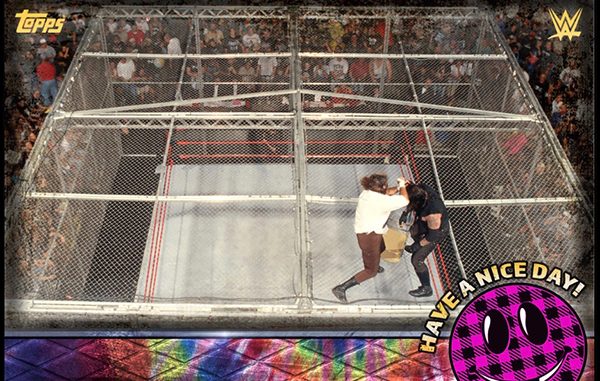 ---
SPOTLIGHTED PODCAST ALERT (YOUR ARTICLE BEGINS A FEW INCHES DOWN)...
---
It hasn't been an especially exciting couple of weeks in the Topps Slam app, unless you count the release of two new video cards, four new live signatures, a new Power set and new base variants, plus there was a pay-per-view just last weekend, so no, not a lot of new content to talk about.  Oh, wait a minute, that's totally not true.  See what I did there?
Payback
has come and gone, and with it begins the third "Season PPV" set, which supposedly will end before SummerSlam this time around (because if they let it go to SummerSlam we're talking 8 sets to track down).  The PPV set itself was a pretty standard by-the-numbers effort with the usual set breakdown: 15 base cards in two different variants (blue and green), two signatures (Chris Jericho & Braun Strowman) in three variants, predictors and a six card Topps Now set issued the week after the event.  As of this writing the awards have not been released, but when they do they will be a dual signature of Neville & Austin Aries (his first if I'm not mistaken) in the same three variants plus a fourth if you managed to get all of the signatures,, Nia Jax Red (for the green base set) and Nia Jax Gold (for the blue base set).  This marks the first time in a long while there is an award for the higher-end base set, and as such the market for the paywall blue base has been explosive.  Helps they're all under 1000cc.  All of the Now cards are hovering in the 700cc range except for Alexa, and they are in the usual high demand, especially the Hardy Boyz.  
Sets completed in the last two weeks were Mood and Voices of the WWE.  The Voices award (Jerry the King Lawler) will be issued later this week.  The Mood award is Mick Foley and hasn't been announced quite yet.  Of the two sets Mood is by and far the more valuable and has greater future investment potential, given that each card was limited to 1000cc.  The Voices Teal cards ended up with CC in between 664 and about 1500, but the performer selection was abysmal with only the four women having any secondary market interest outside of full set collectors.
The three new "mini-marathons" NXT, 205 Live and Colorful Characters all churned along, and the first wave award for 205 Live (Rich Swann) was issued at 300cc for the limited Orange and over 3000 for the OE Purple.  The 205 set is not burning up the charts by any stretch, so if you still wanted to get into it you should be able to for cheap.  
Not really sure what to make of Colorful Characters quite yet.  Card #1 was Ric Flair and it sold out at 11,650.  Card #2 was Xavier Woods and he sold out at 2,870.  The latest card, John Cena is right in the middle with 6,166.  Given the first wave award (after 5 cards) is Finn Balor, I know there's a lot of Finn collectors who may abandon this set after the first five.  Right now all 3 of these can be had for $1.  
The NXT set added Daria Berenato and Elias Sampson, it's Daria's first card, but Elias has several already.  He may get an added boost in that he's just started appearing on WWE TV as "The Drifter".  Again none of these should cost that much currently.  The first wave award is Shinsuke Nakamura, and we know how popular he is.
The day before Payback we finally received our next Topps Focus Video card, with a free Bayley and an in-pack Goldberg.  At

1:55

odds without going behind the paywall, the card was quite popular and sold out just over 1000cc.  It's currently going for $5, as is the next release, which came a week later

on Saturday

, Bray Wyatt, which sold out just over 1300cc.  These are a marathon type set with an award for collecting all 20 cards (but no news on mid-marathon awards), so these early in-pack releases will be very popular.  The first two, Bayley and Randy Orton were free to everyone, so don't think those will have that much of a premium, but as the set nears an end, if you're still chasing them, you'll end up paying more.
Signature Series 2 continues with a three variant release of Rusev.  Yawn.  Topps Limited returned with Ric Flair, with the super-limited at 16cc, and the limited at 160cc (for the "16 times he was a champion, forget about the hot-shot title changes back in the NWA era).  The super-limited so far has topped out at $70, while the standard limited is at $10.  I really hope they don't do a Bret Hart or Finn Balor in this series, then again I kind of hope they do.
Power returned with a Series 2, and this time there's four variants!  The green is given free to everyone, the red is open edition, orange is 24 hour availability and pink is behind a paywall.  Once again, yawn.  
The biggest news of the last two weeks which got collectors excited and upset at the same time, is the return of the Topps Live Signature series; this time around we have the Hardy Boys, Alexa Bliss and Bray Wyatt.  Instead of two different designs per performer, we get only one, and each design had 10 tickets available, which are of course sold out already.  They were entirely behind a paywall and expensive as all get-out.  Three of the 10 Alexas sold on ebay for as high as $350.  Only one each of both Hardys (under $200) and two of Bray have sold ($150).  Undoubtedly the whales are happy (there's one guy who gets multiples of these), but player collectors are crying through their wallets. I'm sure there will be additional releases related to these just as there were the first two times around.
We were "treated" to another Q&A session with the folks who run Slam for Topps, and while not a lot was revealed (yet again), we did get some clarification on a couple things; there should be an Aerialists Series 3 this Summer, Heritage may return with a 2017 design, Fan Choice will return in some format, they plan on having contests for real prizes (though not SLAM cards), and KISS cards will not appear in the game due to technical difficulties.  No word on additional card locks.  
Time for a look at the next four sets in our chronological review of insert sets.  You may notice I haven't looked at any signature series, that's by design thus far.  We'll take a special look at signature cards this Summer.
Yet another "Noun" set which has just now had it's second series release, following the same pattern, there's three variants for the 7 cards with the award being Brock Lesnar.  This set really underwhelmed from the start, and the John Cena card #1 is one of the highest CC of any insert with over 32,000 of them.  You've seen it in trades you've been offered.  It has zero value.
The Pink variant was capped at 750cc, but even the award for that doesn't carry much cache anymore, it's sold recently for under $4.  I cannot imagine there were that many fans looking forward to series 2.
The fourth and final "Noun" set is Flight, and shouldn't have been even necessary since they spent an entire set on "Aerialists" already.  Not sure what the difference is to be honest.  This set fell victim to the dreaded "last day" open edition card, with the final White Flight, Charlotte Flair, being printed in extremely short supply (under 800cc when the award was issued as opposed to card #1 which had over 15,000cc at the same time).  Not really sure what Sheamus is doing in this set either.
This set received a series 2 already.  Strangely the market on this set still has some life in it, especially for the Alexa Bliss and Charlotte cards.  White Flight Kevin Owens is one of my least favorite cards in the game, it's ugly, there's too many of them, and if I see it in a trade it's an auto-decline.  Has been since it's release.
11.  Have a Nice Day – A Tribute to Mick Foley
Now I *LIKE* Mick Foley, the most unlikely of all WWE Heavyweight Champions.  I like him as a person, as an author and I used to enjoy his matches.  No one could ever say though that he was a ring-technician, and while he certainly has his fair share of fans, why they chose him as the third person to get a tribute set is beyond me.  Unfortunately they also decided to make this one a three variant set, with no real definition between cards, oh except that one was supposed to be Mankind, another Cactus Jack and a third Dude Love.  The open editions are STILL in packs, making them less and less valuable each and every day.
The award is pretty cool though, it's a long shot of the the famous Hell In a Cell with Undertaker.  That card sells for $3 fairly consistently regardless of variant.
I never really knew what to make of this insert set.  I suppose it was supposed to be performers who were hot, or who got "heat" in the ring (ala heels), but the selection was really weird.  I understand the inclusion of Bray Wyatt, Baron Corbin, Rusev and Luke Gallows, at the time they were all heels (still are too I guess), and this was one of Gallows first cards.  Naomi hadn't been hot in quite awhile when this was released, and Emma was still on the shelf.  Both Orton and Cesaro were and are still tweeners.  Plus the design is boring as are the bust-type portrait photos.  I guess Kane being the award was inevitable and at least that makes sense.
Another set with three variants, with the open edition white still falling in packs today.  The Kane award goes for $3-4 and that's about the extent of this sets' popularity.
Twelve sets in we can see a pattern emerging.  Sets with only one variant hold more value than sets with multiple variants, and so far there haven't been any cards released that would really take the app by storm.  Signatures were (and of course still are) ruling.  
Heatwave was issued on

August 23

, so just about six weeks after the game was first released.  At this point in the game, many collectors were still chasing SummerSlam sets and had tired of the approach Topps was taking with inserts.  The next four sets would at least be very different from what had come before.
Next time: Charlotte Tribute, Vintage, America the Beautiful and Across the Pond.
Don't forget you can find me in game at GRENDELSEN, and I'm always happy to trade or answer any questions you might have.  Leave questions or concerns here and I'll see you next time.
---
NOW CHECK OUT LAST WEEK'S ARTICLE: DIGITAL DABBLINGS #9 – What's New and Insert Set Focus Part 2