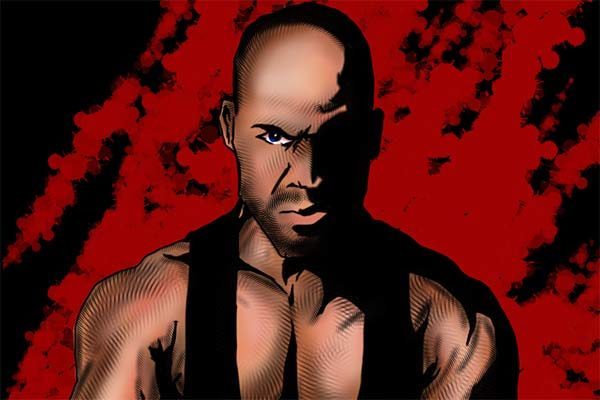 ---
SPOTLIGHTED PODCAST ALERT (YOUR ARTICLE BEGINS A FEW INCHES DOWN)...
---
I've got this horrible secret that, if it gets out, will destroy my family life. Think I'll reveal it on national television…
We start with Dean Ambrose coming to the ring. He's got a chair. He sits in it and insists he's not leaving until WWE reinstates Talking Smack.
"That's Tuesday night. This is Monday night, you know, Monday Night Raw."
"Oh, yeah, good point."
Ambrose calls his chair Steely Dan. Walker Fagen and Daniel Becker named their band "Steely Dan" after the strap-on dildo in William Burrough's novel Naked Lunch. I'm taking this as an indication that the return of the Attitude Era is imminent.
He's going after The Miz and anybody Miz want to bring into the ring with him. Seth Rollins comes out. WWE Couples Counseling is on the air. Rollins tells Ambrose he's sorry for stabbing his Sheild brothers in the back. Ambrose isn't going for it. Rollins hands him Steely Dan, Ambrose straps it on, Rollins turns his back, bites the pillow and..
Ambrose throws Steely Dan out of the ring. Just as the two are about to kiss, The Miz turns up with Arn Anderson and Axl Rose. They have dildos, I mean chairs too. The Miztourage kicks Ambrose and Rollins's butts.
Sasha Banks stops Nia Jaxx's interference in Alexa Bliss's non-title match against Bailey. This shot of adrenaline wakes up the crowd and Bayley's act, as does her pinning Bliss.
NOW Kurt doesn't want to televise his shame. That weasel Corey Graves tells Angle to go out and tell "your truth." I'll be glad when our culture gets over the idea of "your truth."
The Three Man POC Band is backstage. Titus O'Neil demonstrates how Vince McMahon would say "The Power of Tozawa." Mustafa Ali challenges Akira Tozawa to a match.
Brian Kendrick & Drew Galak face Jack Gallagher & Mustafa Ali. Kendrick has been dressing like Gallagher so they had to fight with umbrellas. That looked dumb. You wouldn't see William Regal doing that.
You can hear a pin drop as Michael Cole claims 205 Live has all these "interesting characters." One of them got the pin. Oh, and in even bigger news, the purple ropes are out, not that I ever noticed they were in.
That poor sap Enzo Amore is headed to the ring. One day, he, Rockstar Spud, and Jonny Fairplay are going to reform the Fabulous Freebirds. He's making another inspirational speech. Win a match and get back to us.
Finally, FINALLY, Big Cass comes out to new, almost menacing theme music.
Cass. recites. his. lines. a. robot.
Enzo runs into the crowd, finds some kid with a haircut even more unfortunate than his own, and they sit down to watch Cass faces Big Show. Show has his work cut out for him teaching Big Cass how to be a singles big man wrestler.
Roman Reigns, who apparently just woke up from a nap, says he's the guy who's going to beat Samoa Joe tonight.
Seth Rollins and Dean Ambrose are still picking at each other when a harried Kurt Angle makes a match for them next week against the Miztourage.
Alias Sampson is inspired by Songwriters' Alley in Nashville. The fans chant, "We want Balor!" which is the first time I can remember fans chanting what WWE Creative wants them to chant.
Finn Balor interrupts. His music really is better than Sampson. They have another match, even though Balor won decisively next week. The announcers go on and on about how good Sampson is, even though Balor clearly is better in every way. Sampson finally whacks Balor with a secret hidden guitar for the DQ. Oh, now I see why they needed a rematch.
"Effective." "Making a statement." "That's how you do it."
Bray Wyatt on the big screen laughs at Balor and makes another one of those nebulous speeches about pain and punishment. Balor looks concerned that he's going to have to follow a program with Elias Sampson by facing this mediocrity.
The Revival get interview time. "Top guys – out!" is their catch phrase. Jesus Christ.
Akira Tozawa faces Aria Devari. This Titus O'Neil stuff isn't any good.
Kurt Angle, grinning down the ramp, is about to make his shameful announcement.
First, he tells us the family is okay with it, as is WWE. Some shame.
Anyway, as Kurt Angle reveals in a completely believable way, he has a long lost son he didn't know about from a girl he dated in college, and it turns out it's Jason Jordan from American Alpha. See him live this weekend at the Lou Thesz/George Tragos Museum in Waterloo Iowa.
Jason does look like Kurt, what with his new buzz-cut and facial surgery. They hug. Someone is pissed at the Los Angeles Clippers.
The Hardy Boyz face The Revival. When the Revival start picking Hardy body parts apart, the fans don't seem to know how to take it. Bad guys who don't pander to fans?
Samoa Joe with another good promo.
Roman Reigns comes out first to face Samoa Joe. That probably does help tamp down on the boos. This is another good match they shouldn't put on USA Network and save for Sunday nights. Halfway through, here comes Braun Stroman.
Match is thrown out as Stroman squashes them both.
Brawn Stroman challenges Brock Lesnar at Summerslam?
---
(Bruce Mitchell @mitchellpwtorch has been a PWTorch columnist since 1990. His columns appear exclusively in the pages of Pro Wrestling Torch Newsletter and on the PWTorch VIP website. He hosts the PWTorch Livecast every Friday night at 7 ET at www.PWTorchLivecast.com. The weekly two-hour Bruce Mitchell Audio Show with host Wade Keller has been a VIP audio staple for years.) ###