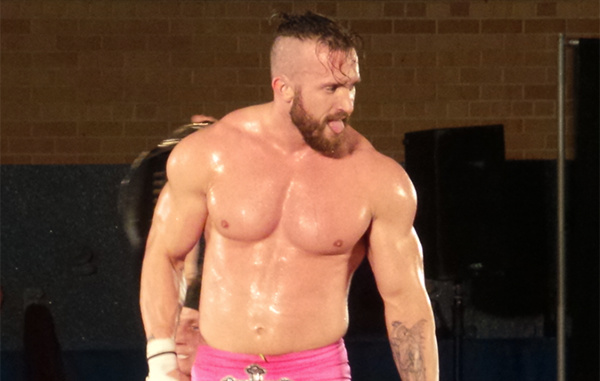 ---
SPOTLIGHTED PODCAST ALERT (YOUR ARTICLE BEGINS A FEW INCHES DOWN)...
---
Battleground wasn't bad, but it wasn't all that memorable, either. The Punjabi Prison match reminded us why we've only seen two before (seriously, if I was still in Philly, trying to watch this through two non-intimidating cages would drive me nuts) and everything else came off like it could have been on a good episode of Smackdown. Still, there was a few nuggets to take home, and a few that will hopefully get lost in the Network archives.
RISING STAR OF BATTLEGROUND: Rusev
It was pretty much a 100 percent done deal that Cena was going to win this match. If Vince incorporates stars, stripes and his longstanding face of the company you better believe he's going to pour on the patriotism, but it's not without some Bulgarian build-up. There was a point in this match where one of the commentators (can you really keep track either?) mentioned of Rusev's physique "being the best it's ever been" which, may be Vince's "Ace Of Spades" when it comes to his calling cards. Rusev loses, but is in for a big time push.
HONORABLE MENTIONS
Baron Corbin: His match was nothing special with Nakumara, but I think Corbin contributed a lot to his "devil may care" persona. Something that really stood out was after he mule-kicked the King of Strongstyle in the sweetbreads, he really relished in his cheap shot. Screw the rules and screw Shinsuke – that's what a heel does and it makes complete sense when portrayed in the right light by the commentators. Plus he found a good balance of talking trash to the Philly fans and keeping his focus on Nakamura. Corbin walks off with his briefcase, without his shoulders pinned to the mat and with some disgust still in fans' hearts. Lone Wolf indeed.
The Usos: It may be because I haven't been invested into the Usos for quite awhile, but this opener showed that they are beyond engaging in their new heelish roles. Thanks in part to New Day for what was a show stealer (minus way too many false finishes), the Usos can still be a viable component to a tag division – I'd love to see them go to Raw in a trade to freshen both sides up.
FADING STAR OF WEEK: Mike Kanellas
Not only was this Kanellas's first WWE PPV match, but this was the first match I actually have seen of his (not counting his ROH days) and I've gotta say, this whole shtick with Lady Maria just isn't working. The "lovey dovey" stuff always garners some heat, but the crowd was lethargic as all get-out for his rematch with Sami Zayn (who, just as many other talents on the roster, hasn't gotten the greatest of shakes), and I have to credit that to because Maria seems to be doing all the talking. Much like Orton as a surrogate to The Authority, "The man formerly known as Bennett" is fighting for Maria, and that may be fine for a face that is red hot, but unfortunately, Sami isn't that guy right now. Give this dude a mic and see what he can do, otherwise the holes in this love boat will remain unplugged.
DISHONORABLE MENTIONS
Shinsuke Nakamura: How much does his bland match with Corbin really fall on Nakamura? Right now, it's so hard to tell: it's obvious Vince and his merry gang of yes men have softened his "strong style" style. He's absolutely still hot with the crowd, but he's also becoming WWE sterilized at the same time, and I'm beginning to lean more towards the side that Shinsuke himself can be doing a little more to keep his head above water. Corbin is at the spot he is right now, and you have to think that if Owens or Styles was in this match, it would have had a little more pop. Is Nakamura being lost in translation? Maybe. Is partially his fault? I think so.
Jinder Mahal: I understand that having two lackeys is kind of Jinder's thing, but a little of it is going a real long way. His credibility as a fighting heel champion is getting the "scorched earth" treatment with these constant Singh Brother run-ins. He was already a jobber before this, showing that he has to get the job done with two other people (oh, wait that and a 7 foot monster) is not helping his cause. And why not highlight the ability to crawl through the grid of the second cage to hammer that point home further? Having a faction that gives him Khali as an enforcer may present better things down the road for him, but winning like this every time is pretty forgettable.
Alright, see you for Summerfest (remember that? Boy, I sure miss those Raw guest hosts!)
---
NOW CHECK OUT THE PREVIOUS COLUMN: RISING STAR & FADING STAR – Great Balls of Fire Edition: Enzo, Reigns, Braun, Hardys, Angle, Slater