---
SPOTLIGHTED PODCAST ALERT (YOUR ARTICLE BEGINS A FEW INCHES DOWN)...
---
Independent wrestling trading cards have exploded in popularity over the last couple years. Former pro wrestling manager Martin Vander Pyle is giving fans a chance to expand their collections nearly two dozen cards at a time.
The 4 Corners Cards Platinum Series is a new independent wrestling card product that Vander Pyle launched in June. Each month the set includes 22 cards of independent wrestlers – some well-known and some local favorites. Each 22-card set is $9.99, and starting with the July set, will also include one special insert card.
Vander Pyle took the time to answer some questions about this new product. He encourages fans to contact him @4CornersCards on Twitter, Instagram and Facebook, and to check out www.4CornersCards.com.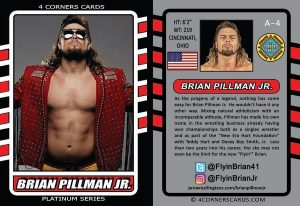 "WWE is the only company putting out cards regularly," Vander Pyle said. "TNA hasn't put out a set since 2013. There are tens of thousands of wrestlers out there. I believe that trading cards would be a much larger part of the wrestling merchandise scene if there were more options. Now there are guys and girls who never had a card getting one. If there are specific wrestlers you want to see in upcoming sets, please let us know."
What is your background as a collector of wrestling cards? I collected baseball cards as long ago as I can remember. I would both go to and sell cards at conventions. I collected some wrestling cards, but there always seemed to be such a small selection compared to the thousands upon thousands of baseball cards produced every year.
How did you come up with the idea for 4 Corners Cards? I had spent a decade plus working in wrestling as a manager … I was extremely lucky to a have done all that I did. Many years later I decided to start a collection of all the men and women that I had worked with over the years. I was so surprised to see just how many bigger name wrestlers had never had a trading card or had one card in a set so rare that it was impossible to find. I figured that if I was having trouble finding people, so were other collectors. My friend Jeff Dino at Wrestle Warehouse produces a monthly subscription box called Wrestle Loot Crate. I pitched the idea to him of doing a second loot crate made exclusively of trading cards, but in the end he told me to take the idea and run with it, and I finally did.
How did you put together the checklist for the first series? Many of the wrestlers in the first series are friends of mine. Several – Willie Mack, Damian Slater, Tom LaRuffa, Paul Tracey and more – had even stayed at my home when I ran NWA House, an apartment where wrestlers from all over the world would stay while training and wrestling in California. … I get permission and work with them to make sure all is well before printing. I don't represent any specific wrestling companies, but I also don't claim to. I'm all about the wrestlers.
Do you have any personal favorites of the cards you've done so far? The Brian Pillman, Jr. and Gabriel Gallo cards are probably my favorites so far, but I've been happy with all of them.
You've teased limited edition inserts in future sets. What can you tell me about those? Starting this month, each set will have a complete 22-card set plus one random insert. The insert will be a different design and throughout the months will include a variety of subsets, sizes, die-cuts, etc., just something extra to make the sets more interesting.
NOW CHECK OUT THE PRIOR COLUMN: COLLECTIBLES COLUMN 5 COUNT: Top 1982 Wrestling All-Stars Trading Cards
---
Five Count is a new format for the Pro Wrestling Torch's long-running collectibles column, which began in 2011. Each week will feature a new top five list: items of a particular wrestler, hot cards or figures, collectibles news items and more. If you have a topic you'd like to see covered in the new Collectibles Column 5 Count, contact Michael Moore at michaelmoorewriter@gmail.com or @MMooreWriter on Twitter.