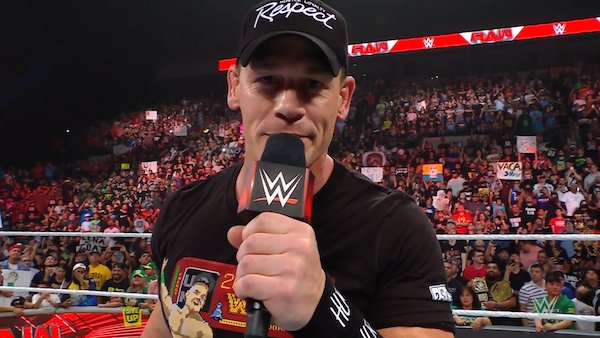 ---
SPOTLIGHTED PODCAST ALERT (YOUR ARTICLE BEGINS A FEW INCHES DOWN)...
---
Bray Wyatt's opening segment – MISS
Well, at least WWE finally announced a match. Officially booked for the Royal Rumble, we have L. A Knight vs. Bray Wyatt in the first-ever pitch-black match, which those who haven't guessed this, is to line up with the corporate synergy with Mountain Dew. I am still determining what this match will look like, but the only way I will watch this match is with a blindfold. Before the segment ends, Uncle Howdy appears and delivers a sister, Abigail, to Bray Wyatt. Some online believe this wasn't Uncle Howdy, but Michael Cole clearly said this was Uncle Howdy, so who knows what's next for this feud.
Solo Sikoa vs Sheamus – HIT
Sheamus, at this point, is turning into the WWE version of Tomohiro Ishii. The guy delivers hard-hitting matches consistently and is teflon if he losses a match. The story of the match was these dudes were trying to kill each other. Solo's selling was terrific throughout the match. I'm not a fan of the Samoan spike finisher but Solo going over was the right call. Great post-match angle with Drew McIntyre returning from the injury list to set up a tag title match between the Bloodline vs. Sheamus and McIntyre next week on Smackdown.
Raquel Rodriguez vs. Ronda Rousey smackdown women's championship – HIT
Fantastic match! This was one of Raquel's best matches in WWE. Selling as a bigger competitor is difficult, but Raquel seems like she's mastered this skill. The referee spot with Shayna was awful. I have no idea what happened or who was off with their timing. The finish to the match was well done. It was creative for Ronda to utilize the top rope and work the injured arm of Raquel so that Ronda could win the match via submission.
Charlotte Flair returns – MISS
Now the post-match. What a complete trainwreck this entire segment was. Most fans and reviewers have been kind to Triple H as a booker due to the low bar set by Vince McMahon, but this was the worst thing Triple H has ever booked while in power. Now, if the rumors are true that Becky Lynch does not want to work with Ronda at Wrestlemania and Triple H's objective was to get the title off Ronda, why couldn't Raquel Rodriguez go over where you accomplish two things? You build Raquel Rodriguez as a new star, and Ronda goes out as a fighting champion. Instead, Tripe H chose to do four even worse things.
First, you brought back Charlotte Flair as a baby face. Second, you did an impromptu title match. Third, your champion lost the title again by a roll-up pin. Finally, you buried whatever aura Rhonda had left.
The Charlotte Flair return on paper was needed for the Smackdown women's division. Still, to grant Charlotte a money-in-bank title shot without the briefcase was the worst possible way to get a cheap moment for the WWE archives.
Gunther Braun Strowman face-off – HIT
Short and to the point. Gunther is on this run where he can't have a bad match with anyone. I assumed this match would be booked for the Royal Rumble, but instead, this I.C. title match will be on Smackdown in two weeks. Braun Strowman has shown he's improved since returning to WWE. Let's see what he has to offer against Gunther.
Sami Zayn and Roman reigns vs. Kevin Owens and John Cena – MISS
The match was never meant to be a five-star classic, but I did expect to get some type of additional storyline out of the match. Yes, Roman could be disappointed in Sami, which could lead to Sami's beatdown, but the Bloodline storyline has been more detailed than that. Overall the match was just a fixture to pop a rating which is fine. However, I would have liked to have seen the substance the match had the potential to achieve.
FINAL THOUGHTS: WWE will always have its peaks and valleys. Nothing could be more accurate as we tie a bow on this final episode of Friday Night Smackdown in 2022.
---
CATCH-UP: 12/30 WWE SMACKDOWN RESULTS: Keller's report on Cena & Owens vs. Reigns & Sami, Rousey vs. Rodriguez, Sikoa vs. Sheamus