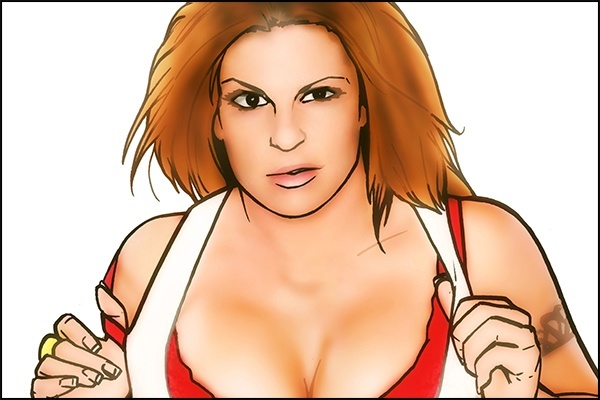 ---
SPOTLIGHTED PODCAST ALERT (YOUR ARTICLE BEGINS A FEW INCHES DOWN)...
---
The following report was originally published ten years ago this week here at PWTorch.com…
---
TNA Impact Results
September 19, 2013
Taped 9/12 in St. Louis, Mo.
Episode #38 of 2013
Aired on Spike TV
Report by James Caldwell, PWTorch assistant editor
[Q1] This week's Impact episode opened with a backstage shot of Magnus addressing his loss in the BFG Series Finals last week. Bobby Roode then interrupted, things escalated, and a brawl broke out also involving E.G.O. members Christopher Daniels and Kazarian. Refs and agents spilled out to separate Roode and Magnus, who did not have back-up from Main Event Mafia.
In the arena, Mike Tenay set the stage for tonight: A.J. Styles has something to say toward TNA president Dixie Carter before he challenges Bully Ray for the TNA World Title at Bound for Glory.
Magnus's music then played to bring out Magnus, who entered the ring to address some things. Magnus said his ribs hurt, his knees hurt, his shoulder hurts, and he hasn't been able to chew food correctly for a week because of his loss to Styles in the BFG Series Finals. Magnus then wished Styles the best at Bound for Glory.
Time for another issue to address. Magnus said three individuals decided to insert themselves into the BFG Series Finals, which he did not appreciate. He said the three of them just jumped him in the back, then he challenged one of them to come face him one-on-one.
Kazarian marched out without music and a fight was on. The crowd settled into their seats during this brawl, which Magnus dominated. Suddenly, Daniels hit the ring and jumped Magnus from behind. Kaz went for a clothesline to Magnus, but Magnus ducked and Daniels took the clothesline. With Magnus in control again, Bobby Roode hit the ring and attacked Magnus, giving E.G.O. a three-on-one advantage. No sign of the Mafia, who apparently wanted to make Magnus work a little in the ring.
Suddenly, Sting's music played to bring out Samoa Joe, who charged the ring, and Sting, who conserved energy walking briskly to the ring. E.G.O. bailed from Joe's presence, then Sting took a mic and booked them in a six-man tag match later tonight. E.G.O. complained on the entrance ramp before Joe chased them away. There was a lot of jump-cutting involved in that segment.
Announcers: TNA cut to Tenay and Taz at the commentary table. Tenay quickly fed to a video package on Styles winning the BFG Series last week, then calling out Dixie Carter. This week, Styles has vowed to point out Dixie's biggest mistake of all.
Tonight: Styles-Carter face-to-face. Up next: Jeff Hardy vs. X Division champion Manik in a non-title match.
Backstage: Chris Sabin, Velvet Sky, and Manix were shown talking in the hallway. More like Sabin was doing all the talking, sounding very cocky and full of himself. Sabin said if he didn't pave the way for the X Division, Manik probably wouldn't even be here tonight. Manik didn't give Sabin the thanks he was looking for, then went off to get ready to face Hardy. Sabin, displeased and hardened by TNA life following his TNA Title loss to Bully Ray, told Velvet they should get a better look at this Hardy vs. Manik match.
TNA cut back to the ring, where Christy Hemme was standing by to introduce Jeff Hardy for the opening match.
[Commercial Break at 9:11]
[Q2] X Division champion Manik was introduced for the opening match to face Hardy. Tenay said this is a dream come-true for Manik facing Hardy tonight. Before the match started, Chris Sabin's music played to bring out Sabin and Velvet Sky, who sold being uncomfortable with Sabin acting like a fool.
1 — JEFF HARDY vs. X Division champion MANIK — non-title match
Hardy leg-whipped Manik to the outside early on, then came flying off the apron with a clothesline. On the floor, Sabin stood up and started a mock rally clap with the crowd. Back in the ring, Hardy missed with a double-foot kick in the corner, allowing Manik to gain control. But, Manik missed with a corner attack, allowing Hardy to nail Whisper in the Wind for a nearfall.
Hardy wanted a Twist of Fate, but Manik blocked with a pinning combination for a two count. Meanwhile, Taz felt annoyed by Sabin and Velvet as a couple. Back in the ring, Hardy hit a Twist of Fate on Manik, then climbed to the top turnbuckle. Hardy wanted a Swanton Bomb and he connected. It was good for the pin and the win.
WINNER: Hardy at 4:01. Fine, but there has to be a better way to utilize Hardy in a veteran role. He's too valuable to be used in a basic opener playing games with the X Division.
Post-match: Hardy stood up and congratulated Manik on his efforts, then left the ring. As Manik sold dejection losing to his favorite wrestler, Chris Sabin entered the ring and cockily raised Manik's hand in the air. Manik went back to pouting, then Sabin smashed Manik from behind. Hardy then jumped into the ring, chasing away Sabin, who bounced around on the outside after sneak-attacking Manik. Ringside, Velvet acted perplexed by Sabin's weird behavior.
Earlier Today: Dixie Carter arrived in a vehicle. Dixie sold having a lot on her mind as the roving cameraman asked what's on her mind. "A lot going on," Dixie said while marching into the building.
[Commercial Break at 9:23]
Still to come Tonight: Styles-Dixie Summit.
Backstage: Chris Sabin told Velvet Sky to grab their bags so they can get out of here. The roving cameraman asked Sabin why he attacked Manik. Sabin said he's so disrespectful, then said he's tired of everyone not giving him his props. Sabin said he's a trailblazer around here and no one gives him the respect he deserves, especially the fans. Sabin vowed to get the respect he wants his own way.
In-ring: Christy Hemme introduced the next match, a Knockouts Title match. Out first was ODB, followed by "Hardcore Country" Mickie James to defend the title.
[Q3]
2 — KO champion MICKIE JAMES vs. ODB — Knockouts Title match
Champ and Challenger started fighting before the bell, so the ref called for the bell to begin the grudge match. Mickie took control early on, then did a self-satisfied heel pose to mock ODB. ODB made a comeback leading to a mid-match commercial.
[Commercial Break at 9:33]
Back from break, Mickie and ODB resumed their struggle for control of the match. Double knock-down put both competitors on the mat. ODB came up fired up and made her comeback. Mickie cut her off moments later, but her cockiness caught up to her, as ODB blocked a DDT and finished Mickie for the pin and the win.
WINNER: ODB at 10:55 to capture the Knockouts Title. If Mickie James is gone from TNA, per her contract expiring, who will ODB feud with? Only other option is another round with Gail Kim, unless Velvet turns heel along with Sabin.
Post-match: Eric Young and Joseph Park hit the ring to celebrate with ODB. Suddenly, Bro-Mans interrupted. Robbie E. spoke on the mic that they (along with Jessie Godderz) hate to break up this "really weird celebration," but Joseph Park is just a third-wheel hamster loser.
Park responded: "How…dare…you…sirs?!" Park said they cannot diminish the new Knockouts champion ODB and try to besmirch the institution of holy matrimony. And, how dare they insult the St. Louis fans by wearing their ridiculous outfits. Park said if he were not wearing this suit right now, he would teach them a lesson.
Robbie said it sounds like Park is challenging him to a match. "I never said that," Park whispered off-mic. EY spoke next that Park has a suit on, while he does not. EY began to remove his clothing, then Robbie hit the ring to begin an impromptu match.
[Q4]
3 — ERIC YOUNG (w/ODB and Joseph Park) vs. ROBBIE E. (w/Jessie)
The bell sounded, Eric re-arranged his cap, Eric ducked a clothesline, and EY rolled up Robbie from behind for a quick three count. Post-match, EY quickly left the ring and Robbie quickly complained about wanting to fight Park, not EY. Robbie then asked Park: "What's the matter? Are you scared of me, fat bastard?!" Park slowly removed his glasses, then slowly removed his suit jacket as he made a determined march to the ring.
WINNER: EY at 0:13.
[Commercial Break at 9:46. TNA cut to a shot of Park bouncing up and down in the ring preparing to face Robbie after accepting the challenge.]
4 — JOSEPH PARK (w/EY and ODB) vs. ROBBIE E. (w/Jessie)
The bell sounded back from break with Robbie missing a corner splash, Park bouncing out of the corner, and Park rolling up Robbie from behind for another quick three count.
WINNER: Park at 0:08.
Post-match: Robbie and Jessie attacked the winners from behind, angry over the two embarrassing losses. Bro-Mans then double-smashed EY to take him out. On the outside, Bro-Mans sent Park into the steelpost. Back in the ring, Bro-Mans continued to beat down EY. Suddenly, the video cut to a shot of Park now in the ring with blood on his face. That was a jarring edit. Park transformed into Abyss and smashed Bro-Mans around the ring before recognizing his actions. EY wasn't sure what to make of it, then sold excitement over Park turning crazy. They hugged, then EY celebrated with Park.
Announcers: Tenay and Taz were shown on-camera quickly changing subjects to Aces & Eights matters. Tenay noted Mr. Anderson was taken out last week by Bully Ray, who remained TNA champion. Taz said he actually thinks that Bully went a bit over the line last week.
Video Package: Bully vs. Anderson issue leading to their TNA Title match last week, which then led to Anderson taking a post-loss beating and being stretchered out of the building.
Backstage: Bully Ray and Brooke Tessmacher were shown walking down the hallway. Ray speaks at the top of the hour.
[Commercial Break at 9:55]
Impact returned just before the top of the hour with a video package recapping A.J. Styles's BFG Series victory and post-match promo on Dixie Carter.
[Q5 — second hour] Backstage: Hulk Hogan was shown talking to Dixie Carter. Hogan tried talking to Dixie, who blew him off and kept checking her phone. Dixie quietly said she has this handled, then walked off. Hogan sold not understanding what's going on with her.
Aces & Eights Breaking Down Segment
In-ring: Aces & Eights's music played to bring out Bully Ray with Brooke, followed by the B-Squad of Garett Bischoff, Wes Brisco, and Knox. Following in-ring posing, Ray took the mic and said it sounds like everyone is very happy to see him tonight. Ray said he understands that the fans are proud of their World champion.
Ray then turned toward the rest of the group and sarcastically asked where Ken Anderson is. "Couldn't make it tonight," Ray said. Ray then told the crowd to think about the following: "Do you know who I am?" Ray said he is indeed Bully Ray, the World Hvt. champion, the president of Aces & Eights, and there's nothing anyone can do about it.
Ray said there is someone he needs to thank, though. Ray said he could not have defended his title if it were not for someone special. Garett thought it was him. So did Knox. So did Brisco. But, it was Brooke. The B-Squad sold concern in the background as Bully talked up "Brookie." Ray said the way Brooke drilled Anderson right in the groin showed so much love for him. "That is the reason why I am the World Hvt. champion!" Ray declared.
Ray turned to the rest of the group, wondering what their problem is. Wes spoke up that they have done everything for him, and now he's putting everyone aside for "just her." Ray told Wes not to disrespect Brooke like that, then Garett spoke that Ray's judgment and priorities have been way out of whack ever since Brooke came along.
Ray said he appreciates the passion and outspokenness from "Bisch," but he better not – and he means ever – bow up to him like that. "I made you," Ray declared to Garett, then to Wes. "If you ever step out of line again, I guarantee you that I will smack both of you in the face," Ray told Wes and Garett.
Knox then got in Ray's face and asked if he's going to slap him in the face, too. Knox noted they've been running for one-and-a-half-years, then said he might be the one to shut up Ray's mouth. Knox said they've kept the belt in the club, then noted they're down to four members (what about Taz?) after starting with a couple dozen. Knox said this club is falling apart. He said Club Business has given way to Bully Business and Bully has forgotten the first rule: Bros before Hos. Brooke slapped Ray on the back to get him to do something, so Bully shoved Knox across the ring and grabbed the mic.
Bully told Knox that if he ever steps out of line again or refers to his girlfriend like that again – pause for a "ho" chant from the crowd – he will knock Knox's head off. Knox removed his beanie, daring Ray to do something. Ray saw that it's time to bail, so he pulled Brooke out of the ring. On commentary, Taz was speechless, then said they need to chill out and get on the same page. Tenay said A&E is falling apart before Taz's very eyes. From the entrance ramp, Ray called out to the other members to get in line.
Main Event Mafia Office: Sting gave a pep-talk to Magnus while Samoa Joe paced in the background. Sting noted that Kurt Angle is gone and Rampage Jackson is off training, so they need to pull tight as a three-man unit. Magnus received the pep-talk and walked off as Sting sold concern in the background.
[Commercial Break at 10:10]
In-ring: Christy Hemme was standing by to introduce the next match. Out first were Chavo Guerrero and Hernandez to face the TNA tag champions. Chavo walked to the ring like he thought he was the biggest star in the company to establish them as the heels, then James Storm's music brought out GunStorm.
[Q6]
5 — TNA tag champions GUNSTORM (JAMES STORM & GUNNER) vs. CHAVO GUERRERO & HERNANDEZ — non-title match — Chavo & Hernandez get a future Tag Title shot with a win
Before the bell sounded, Chavo took the mic and said that he would love nothing more than to injure GunStorm, he is injured and not medically cleared for this fight. Chavo said they won't be beating them tonight, then Gunner took the mic. "Whoa, whoa, whoa!" Gunner said, sounding like he was reciting a line. Gunner said he came here to fight, so someone better fight him. Gunner then pointed to Hernandez, asking what's wrong with him. On the mic, James Storm gave Gunner permission to fight while he sits back and drinks some beers.
5 — TNA tag champion "MODERN DAY VIKING" GUNNER (w/James Storm) vs. HERNANDEZ (w/Chavo Guerrero)
The two big men went back and forth before Hernandez went to the entrance ramp to fly over the top rope with a big splash to Gunner. Hernandez then pounded on Gunner, who lightly slapped Hernandez to tease a comeback. Gunner eventually made a full comeback with a suplex. Hernandez then awkwardly stumbled into Gunner, who punched him in the gut a few times.
Gunner slapped himself on the head a few times to indicate he wanted to finish Hernandez, then Hernandez walked right into a uranage into a backbreaker for the pin and the win. Post-match, Chavo insisted from ringside that GunStorm can't beat both of them. Meanwhile, Taz questioned what's wrong with Chavo.
WINNER: Gunner at 4:17.
Backstage: A.J. Styles was on the phone standing in front of an elevator. Tenay said Styles has arrived to call out Dixie Carter.
Up Next: Mafia vs. E.G.O. six-man tag main event.
[Commercial Break at 10:23]
Back from break, E.G.O. bounced out to the ring. The formation was Daniels and Kaz strutting to the ring while Bobby Roode walked slowly behind. Main Event Mafia music then brought out Sting in the middle, Joe on the left, and Magnus on the right. Sting disappeared to the back, then retrieved a baseball bat to bring to the ring. Of note, Sting is actually wearing a form-fitting t-shirt as opposed to his trademark over-sized t-shirt that covers his physique.
[Q7]
6 — MAIN EVENT MAFIA (STING & SAMOA JOE & MAGNUS) vs. E.G.O. (CHRISTOPHER DANIELS & KAZARIAN & BOBBY ROODE) — six-man tag match
Joe started things off with a corner slam on Daniels before washing Daniels's face with his boot. E.G.O. helped Daniels out of the ring before he took a corner boot, then Daniels tagged in an unsuspecting Kaz, who took another beating from Joe. Joe and Magnus worked on Kaz, then Magnus tagged in Sting to a strong reaction. Sting delivered a dropkick that sent Kaz to the floor, then Sting whipped Kaz into the ring steps.
Back in the ring, Sting continued to pound on Kaz. E.G.O. then tried to attack Sting from behind, but Sting fought them off. Daniels finally found a way to cut down Sting, dragging him down to the mat from the outside. E.G.O. began working on Sting heading to break.
[Commercial Break at 10:33]
Back from break, E.G.O. continued to work on Sting with double and triple-team combinations while Mafia sold concern in their corner. Taz took great pleasure in Sting taking a beating, prompting Tenay to sarcastically thank Taz for his great analysis. Rare biting sarcasm from Tenay.
At 12:00, Sting broke free and tagged in Magnus. Roode was the legal man for the heels. Magnus fired himself up to deliver a Michinoku Driver, but Daniels broke up a pin attempt. The action broke down with bodies flying everywhere. Roode then found himself on the receiving end of Joe and Magnus's top-rope finisher combo, but Daniels broke up a pin attempt.
More chaos, then Sting and Daniels were alone in the ring. Sting hit a Scorpion Splash, then put Daniels in the Scorpion Deathlock. Sting was about to take a baseball bat to the back, but Magnus dove in the way to take the blow, which happened next to the referee, who was occupied with Kaz in the corner. Roode then snuck back into the ring to pin Magnus for the win.
[Q8] Post-match, the announcers played up frustration for Magnus taking a second straight loss. The Mafia regrouped in the ring while E.G.O. celebrated on the entrance ramp.
WINNERS: E.G.O. at 14:28. Are they setting up for Magnus bailing on the group? Direction isn't always clear on these second-of-two TV tapings, as they might go a difference direction at the next set of tapings.
[Commercial Break at 10:46]
Styles-Dixie Confrontation
Impact returned ten minutes before the top of the hour with A.J. Styles walking out to the ring in street clothes. Styles took the mic and paced the ring before starting his promo. Styles said he has been here since Day 1 since in Nashville, trying to make this an "alternative for you to watch." Then, Dixie Carter's daddy bought her a "'rasslin company."
Styles said Dixie has no blood, sweat, or experience in wrestling, then broke up the chemistry of TNA. Styles said she had stars in her eyes, then asked what happened to Jerry Lynn and Low Ki. Styles said Dixie brought in MMA guys and guys who needed a two-year paid vacation before going back to where they belong. Styles referenced Alex Shelley, Jay Lethal, and Petey Williams not being here, blaming Dixie. "And it pisses me off," he said. Styles asked the crowd if they're upset too.
Styles said Dixie's biggest mistake is staring her right in the face because he's challenging for Dixie's TNA Title at the biggest PPV of the year and he doesn't have a contract. Styles said she picked off their band of brothers one by one, but she left him. Styles said he's going to win the title for himself, the band of brothers, and for the fans, then he's going to make Dixie get on her knees and beg, then make her pay.
After Styles finished "shooting," Tenay said this is a side of Styles they're not used to. Dixie emerged on-stage to boos, then walked into the ring to stare down Styles, who gave her a look to say something. Dixie put his hand on Styles's arm and said for him to come out here and say these things in this public way, she knows he means them from the bottom of his heart. Dixie said she's sorry, then said she has to be accountable. Dixie said she's accountable to the investors, professionals, wrestlers, and the fans. "And A.J., I am accountable to you," Dixie said, pretending to fight back tears. "I owe you an apology."
Dixie then turned from remorseful to mean, saying that she's sorry for ever letting Styles think he's better than average. Dixie said Styles as the Phenomenal One is an illusion that she created. "A marketing gimmick," Dixie said. She said Styles used to have five-star matches, but she can't remember the last time he had one. Dixie said she should call Styles the "marginal one." Dixie spoke over light boos that she would like to thank Styles so much for allowing her to come into her ring on her show and respond to all of the crap that Styles has criticized her for the last few weeks. Styles said she hopes they're a little more crystal-clear.
Dixie wasn't done. She said if not for her dad's money, Styles would still be in the trailer park, plus Dixie owns this house that Styles claims to have built and Styles is lucky to have played in it. Dixie pointed in Styles's face, then shouted, "You asked for it," as the crowd booed. As Dixie left, Styles told Dixie to put that mic where it belongs. Dixie then grabbed a headset and shouted for Styles's mic to be cut off. Dixie called for the show to end. So, credits flashed.
Caldwell's Analysis: So, TNA's desperation heave is to go all-in with a "worked shoot" dog-whistling to hardcore fans with buzz words and phrases, while trying to engage casual viewers with a Boss vs. Employee storyline. It's Con Artistry 101 putting the money mark in a position to be the top star to keep her engaged in the show while business is struggling. One big question coming out of this is how TNA sells Bully Ray vs. Styles at Bound for Glory. Do Dixie and Bully discover a common enemy in Styles, then "stack the deck" against Styles?
The final notion was teased by Bully Ray on Twitter following Impact: "Wow. @TNADixie sure put @AJStylesOrg in his place. I normally NEVER see eye to eye with her but her emotions tonight were PURE HATRED. Hmm."
---
RECOMMENDED NEXT: 10 YRS AGO – WWE Live Event Results (9-20-2013): Daniel Bryan vs. Randy Orton, plus CM Punk, Ryback, Santino, Wyatt Family, Usos, Kofi, Sami Zayn, Naomi, Sandow, more
OR CHECK THIS OUT AT PROWRESTLING.NET: Vince McMahon's departure and return to WWE featured, WWE and UFC merger piece