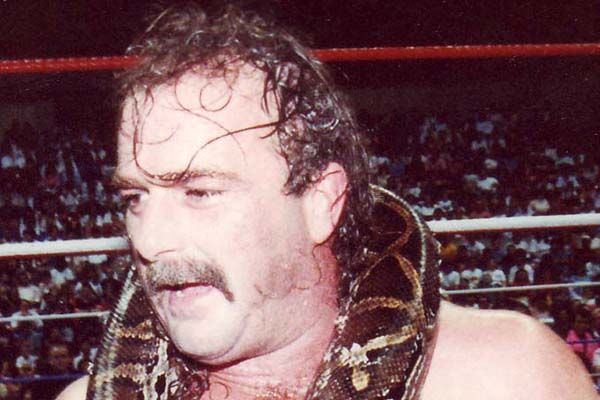 ---
SPOTLIGHTED PODCAST ALERT (YOUR ARTICLE BEGINS A FEW INCHES DOWN)...
---
TORCH TODAY – Friday, February 19, 2016
– It was very surprising to see the ROH TV Title change hands in Tokyo, Japan today. The potential of Tomohiro Ishii vs. Hirooki Goto for the TV Title on ROH's 14th Anniversary PPV next Friday is very intriguing, and would give the line-up a nice boost on a "fight week." It's likely ROH sorts things out on the post-PPV TV taping next Saturday before the New Japan stars return to Japan. However, there is a quick turnaround when the New Japan stars return to the U.S. in May. So, is it possible for Ishii to hold the TV Title for a few months after taking it from Roderick Strong? We shall see. Regardless, the 2016 New Japan vs. ROH Series just got more interesting, starting with a surprise TV Title change on opening night. Now, if Honma wins the ROH World Title from Jay Lethal on Saturday, then mass chaos will ensue.
– FRIDAY EVENTS CENTER: WWE's NXT crews are in New Jersey and Florida… New Day and Roman Reigns are at the Portland Comic Con… CWE kicks off a week-long tour of Canada with Colt Cabana headlining… AAW has Chris Hero, Johnny Gargano, and more big indies stars… Curt Hawkins is in New York… Jeff Jarrett's GFW crew is in Maryland… Crimson headlines Real Tennessee Wrestling. (Full Events Center) (Reports Wanted to pwtorch@gmail.com)
– On PWPodcasts.com: Recaps of C.W. Anderson guesting on this week's "Art of Wrestling" podcast with Colt Cabana and "Cheap Heat" on Grantland Sports.
– On PWTorchLivecast.com: On-Demand access to Thursday's Wade Keller Interview with recent TNA Hvt. champion Ethan Carter III.
– On MMATorch.com: News on Jon Jones, B.J. Penn, and tonight's Bellator MMA fight card.
– As part of WWE's website overhaul, the staff is introducing new features, such as detailed historical looks at past wrestling events. Released on Friday is a look at WCW's plans to relaunch in mid-2001 before the company was ultimately scrapped and sold to WWE. The article is from WWE's perspective, so it's not a complete look at what happened, but includes new quotes from former WCW president Eric Bischoff. PWTorch covered the complete story in great detail in the 2001 Torch Newsletters, which can be read in the Back-Issues Section for PWTorch VIP members.
– Another interesting development from WWELand is acknowledging other wrestling outfits. Well, those below the TNA level. When McDonalds introduces a Kale salad, does it mean they have validated good food options by introducing it on a mainstream level, or are they trying to wrap their arms around everything in the food industry to have absolute control of the market? WWNLive booker Gabe Sapolsky, who is working with WWE's NXT brand, took the first approach in a Twitter exchange.
@BookItGabe No disrespect, but you've spent most of your career trying to be what they're not. How is WWE's acceptance validation?

— JS (@MrZoneSchmidt) February 19, 2016
Cause they are progressive enough to accept us for what we've been doing and not trying to conform or change us https://t.co/L2sztahftD

— Gabe Sapolsky (@BookItGabe) February 19, 2016
– Ahead of Sunday's Fast Lane event, the popular tech news outlet CNet covered the build-up to the PPV on the Road to WrestleMania. The angle of the article is what wrestling-related trends will be blowing up Twitter on Sunday night. (Thanks to VIP member John)
– Jake Roberts is heading to Canada this weekend for a Q&A as part of a screening of his "Resurrection of Jake Roberts" documentary. Notably, Jake talked to The Whig about being hesitant to be part of the movie because of his bad experience with "Beyond the Mat" about 15 years ago.
"It was real tough for me to do this because I'd had a bad experience with filmmakers; a group that really colored me bad," Roberts said, "And really tore my family up too and it was pretty ugly." Roberts said once DDP showed him the movie, he was on-board and has seen the impact on people's lives seeing him live through his tough life experiences. (Full Interview & Appearance details at TheWhig.com)
– Former NXT head trainer Bill DeMott is talking about his involvement in the rise of NXT and break-out stars from the Developmental roster, but not talking about what led to his departure from the WWE training system. DeMott, who was released after repeated allegations of training abuse, talked in a new interview with The World According To Wrestling as if it's up to him on whether he will return to WWE.
"I love to be around young talent. I love to be around talent that's looking for another way to fix things or try things and I love training," DeMott said. "I absolutely love wrestling and I take advantage of every opportunity from seminars to tryout camps and things like that and, if the opportunity ever comes again, you never say you're not gonna do it because I'd be a liar but if it ever came up it'd be a serious conversation with my wife." Rather, it's up to DeMott to show some acknowledgement and introspection on what happened that led to his exit from WWE.
– Finally, James Laurinaitis, the son of "Road Warrior" Animal and nephew of John Laurinaitis, was cut by the St. Louis … well, Los Angeles Rams on Friday. Laurinaitis was one of three big roster cuts as part of business moves by the Rams organization entering a new era.