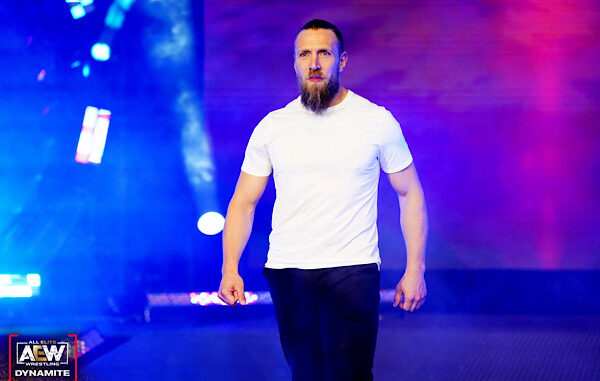 ---
SPOTLIGHTED PODCAST ALERT (YOUR ARTICLE BEGINS A FEW INCHES DOWN)...
---
Bryan Danielson
Background
Bryan Danielson is one of the most decorated professional wrestlers of the last decade. The Aberdeen, Washington native has led a storied career and entered AEW at perhaps the companies zenith, All Out 2021.
Danielson famously began his wrestling education under the tutelage of Shawn Michaels at the Texas Wrestling Academy in the late 1990's. He would then join the WWE's developmental system, competing for Memphis Championship Wrestling where he would encounter another wrestling luminary, William Regal. Regal would become integral to Danielson's development, a mentorship which would continue throughout Danielson's career. Indeed Danielson displays facets of both Michaels and Regal in his on-screen presentation, combining the showmanship and storytelling of Michaels with the technical prowess and submission style of Regal.
While Danielson's initial stint in WWE developmental would be short-lived, recognition was around the corner as a hall of fame independent career would define his next decade in the squared circle. Danielson competed for a burgeoning ROH from 2003 to 2009 before once again returning to WWE, this time as part of the divisive NXT talent series. Undeniable skill propelled Danielson to the main roster (a newsworthy release only momentarily halted his momentum) and titles followed. The former Daniel Bryan would reach the pinnacle of his WWE career against the odds. Regarded as the wrong fit as a top star, Danielson would confound company expectations and ride the wave of phenomenal fan support to a main-event victory at the historic WrestleMania 30.
Injuries would plague and then seemingly end Danielson's in-ring career. Severe concussion issues would force early retirement. Danielson stayed in the WWE limelight with an entertaining General Manager role before miraculously returning to the ring just 3 years later. Although a long-term position with WWE was an option, Danielson yearned for artistic freedom. With the rise of a viable number two promotion in mainstream professional wrestling, the freedom which AEW offered proved too strong a draw to deny.
Journey
Returning to his real name on debut for AEW, Danielson debuted as a face opposite the antagonistic Elite. Creative didn't wait to deliver a dream match for AEW's passionate fan base by opposing Danielson with Kenny Omega at the Dynamite 'Grand Slam' special. The 30 minute time-limit draw would act as a taster of Danielson's unshackled ring style. Danielson would go on to win an 8-man tournament to earn the right to challenge then champion Hangman Page. The match took place at another Dynamite special 'Winter is Coming' and again the match ended in an exhausting 60 minute draw. The return match against Page would produce Danielson's first AEW loss as the world title program faded into the rear-view.
A meeting of the maniacal minds followed as Danielson faced off against Jon Moxley. A violent rivalry between the two culminated at the 'Revolution' 2022 PPV. Danielson would once again fall to defeat but gain the admiration of his opponent. Admiration which would turn to alliance as William Regal would debut in AEW and form the Blackpool Combat Club stable. Wheeler Yuta and Claudio Castagnoli would later join the gang under a shared love of hard training and a spit & sawdust mentality. The diametrically opposed BCC and The Jericho Appreciation Society would then feud in a series of matches including the 1st ever 'Anarchy in the Arena' and a 'Blood and Guts' battle. It was during this feud that the affections of Daniel Garcia would be torn. A battle between wrestling and sports entertainment, Danielson and Jericho, for the heart and mind for Garcia proved compelling television until Garcia eventually sided with Jericho.
Danielson would obtain another World title shot against current champion MJF only to fall to defeat at this years 'Revolution' PPV. Displaying a propensity for the broadway, Danielson and MJF would compete in a 60 minute Ironman match.
A brief hiatus allowed Danielson to recover and he recently returned to the side of the now villainous BCC. Mirroring his debut feud, Danielson is now once again opposed to The Elite though this time with roles reversed.
Future
First things first, at the recent NJPW 'Dominion' show Danielson challenged Kazuchika Okada to a match as AEW's upcoming 'Forbidden Door' PPV and the internet wrestling community rejoiced. Short-term then Danielson's trajectory is tied to The Elite and by proxy Okada. Once the dust settles though, where should Danielson land next?
The announcement of the weekly 'Collision' show also provided the surprising tidbit that Danielson would be assisting with creative. This feels like a logical next step for the clearly passionate Danielson and provides a long-term option once his in-ring career winds down.
That doesn't mean though that there aren't more big matches to mine before Danielson hangs up his boots. With such a huge roster to choose from Danielson has his pick of next opponents. With Danielson so closely associated with Collision could a battle with former nemesis CM Punk be on the horizon? Both have shown compelling chemistry at previous employers and another go-around would provide a big match feel. Danielson has also shown prior in-ring fluidity with Adam Cole. Could a longer, more story driven feud be another potential option?
The importance of Danielson's success in AEW going forward does depend on his ambitions and career priorities. His ever changing constitution needs definition. Danielson is equally proficient as either face or heel but the AEW crowd do seem to just want to cheer their hero in the latter stages of his in-ring run. A heel turn for the BCC stable has proven difficult as Moxley, Danielson and Castagnoli are all respected veterans in the eyes of the live crowd. Danielson's story of overcoming adversity is a proven one and he has shown a desire like few others during his feud with the dastardly MJF.
Verdict: The fire remains for the American Dragon and he's clearly enjoying his creative freedom. Though Danielson isn't the centerpiece answer to AEW's long-term success he is an important piece of the puzzle and should be lent on for showpiece matches to elevate the companies impressive young roster.
Wheeler Yuta
Background
Hawaiian born Paul Gruber is rapidly becoming one of AEW's most impressive young stars under the ring name Wheeler Yuta. The former Best Friend debuted for hometown promotion, Philadelphia's CZW, in 2014 and then journeyed the American independent scene. Taking in Chikara, MLW and NJPW Strong, Yuta has honed a popular independent style. The son of an American Naval officer, Yuta is a proficient technical wrestler who can mix in aerial offense when called upon.
Stoic in presentation, Yuta is more known for his work between the ropes than outside of them. A throwback to a more simpler presentation in many ways, Yuta is yet to find his voice as a singles competitor but has found the right balance as
the de-facto 'young lion' in AEW's Blackpool Combat Club stable. A perennial babyface before his recent heel turn, Yuta has long portrayed the earnest rookie but has now transitioned into the eager to please mentee.
Journey
Like many of his contemporaries, Yuta debuted for AEW on a 2021 episode of AEW Dark Elevation but soon caught the eye of those with influence to ascend to a more featured role.
Initially paired with the comedic Best Friends stable, Yuta fought alongside stablemates Chuck Taylor, Trent Beretta, Orange Cassidy and Kris Statlander. The group would also be integrated into NJPW's Chaos stable due to their association with the visiting Rocky Romero. Yuta's fighting spirit though would soon catch the eye of both Bryan Danielson and Jon Moxley.
Impressed by Yuta's never-say-die attitude, the duo would invite Yuta to join the Blackpool Combat Club and continue his education under the mentorship of William Regal. Yuta was initially torn but saw the BCC as an opportunity to move his career onto another level. Whilst the defection was not amicable, Yuta remained a face within his new stable. As with Danielson, it would be a feud with The Elite which would see Yuta turn to the dark side and become a heel for the 1st time in his fledgling career.
Future
Presently Yuta is right where he needs to be. Surrounded by accomplished veterans, he is well placed to enter the next phase of his AEW career. Yuta has been elevated by association with a popular stable and has been featured in several high-profile main events, most notably a pin fall victory over Kenny Omega.
In the long-term Yuta has the potential to compete for a major singles title but has to continue to develop his out of the ring presentation. The AEW owned ROH has proved a decent arena for Yuta to trade a singles title in compelling matches. He is more than capable in transferring that momentum to AEW but perhaps requires a mouthpiece. Could Danielson transition into a manager / partner for Yuta? Perhaps long-term but would an association with Don Callis be an option in the short-term? Yuta could turn his back on his BCC brethren and side with a heel Callis.
Yuta could also become bitter with the recent focus on the 'Four Pillars' of the company and turn his ire upon them. Matches opposite babyfaces Darby Allin, Jungle Boy and Sammy Guevara would certainly be fresh and again position AEW as a company focused on featuring youth.
Verdict: Yuta is one of AEW's success stories. A relative unknown with independent credentials who has been elevated by his own talent and association with one of the company's coolest acts. Unlimited potential but continued development needed.
---
CATCH-UP: AEW Dynamite Ratings Report: Latest key demo info, three-day viewership totals, year-ago comparisons