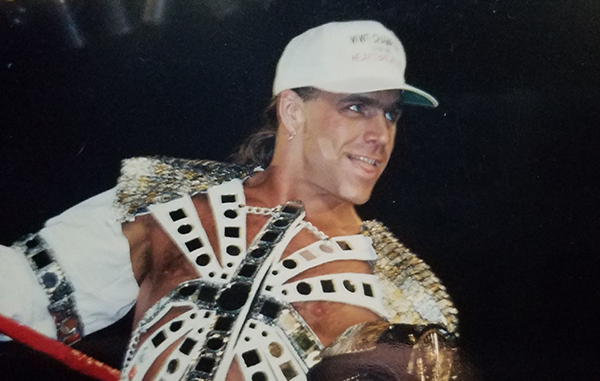 ---
SPOTLIGHTED PODCAST ALERT (YOUR ARTICLE BEGINS A FEW INCHES DOWN)...
---
Dear Santa,
Another year has passed, and I have joined Shane McMahon and many others who have stopped watching Raw. Of course, I am still a fan of pro wrestling, so here is the Christmas wish list of a lifelong fan for a better 2017.
FOR VINCE MCMAHON: A Quality Control Manager keeping characters and stories consistent.
FOR JOHN CENA: More mainstream opportunities. He has the personality to be a household name.
FOR THE ROCK: A headline Hall of Fame induction.
FOR UNDERTAKER: A dramatic Mania victory over John Cena.
FOR DONALD TRUMP: An appearance at WrestleMania 33. Can you imagine the reaction?
FOR SHANE MCMAHON: Hair dye.
FOR STEPHANIE MCMAHON: A comeuppance.
FOR HULK HOGAN: A WrestleMania segment with New Day.
FOR NEW DAY: A WrestleMania segment with Hogan. Their modern day minstrel act would be fascinating with "real American" Hogan.
FOR A.J. STYLES: A year away from James Ellsworth and in serious feuds.
FOR KEVIN OWENS: A year showcased as a serious prizefighter.
FOR NAKAMURA: A headline WrestleMania match.
FOR SAMOA JOE: A headline WrestleMania match.
FOR ROMAN REIGNS: A well-booked heel turn.
FOR SHAWN MICHAELS: A coaching job teaching how to lay out matches to maximize drama.
FOR THE MIZ: A coaching job teaching other pro wrestlers how to be a great heel.
FOR RAW: A newly designed Universal Championship.
FOR DIXIE CARTER: A final deletion of TNA forever.
FOR BILLY CORGAN: A business advisor asking him why.
FOR SETH ROLLINS: Erase the last few months and just make him heel immediately. He is too weasely to be a face.
FOR DEAN AMBROSE: A return to his original dangerous, edgy Shield character.
FOR BOOKER T: His own WWE Network talk show. Can you imagine the hilarity?
FOR VINCE RUSSO: His own WWE Network rant show complete with "bro" count drinking game.
FOR RIC FLAIR: His own WWE "How to be the man" show,  the best part of his podcast.
FOR TRIPLE H: Power to bring some of his creative philosophies to WWE.
FOR GOLDBERG: A dramatic few months and retirement at WrestleMania.
FOR JAMES ELLSWORTH: A thank you card… and goodbye.
FOR BROCK LESNAR: A ban on suplexes and return to showcasing his myriad of skills.
FOR SASHA BANKS: A return to the Boss character.
FOR CHARLOTTE: Accomplishing her goal of beating her dad's record of title reigns. At this rate, she should top 16 by mid-2017.
FOR WOMEN'S DIVISION: A ban on crying with fines and suspensions.
FOR CRUISERWEIGHT DIVISION: Take it seriously and build around larger than life stars.
FOR WWE: A company-wide policy establishing consistency across public platforms.
Thank you, and hope you have room in your sleigh for all these gifts to make wrestling great again!
Happy holidays to Torch staff and readers!
Please send questions, comments and feedback on Twitter @shawnvalentino.  Follow me on Instagram @shawnvalentino and check out my weekly Youtube show on www.youtube.com/hayhoestudios
---
CHECK OUT SHAWN VALENTINO'S PREVIOUS COLUMN: MAGIC, MEMORIES AND MANIA: Five lessons WWE should take from Goldberg vs. Brock Lesnar at Survivor Series