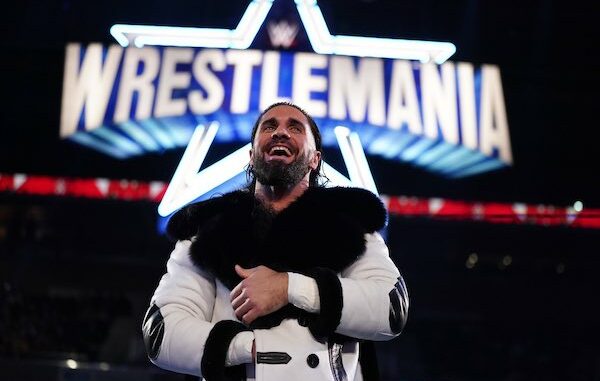 ---
SPOTLIGHTED PODCAST ALERT (YOUR ARTICLE BEGINS A FEW INCHES DOWN)...
---
Opening Segment – MISS: It is rare that I give a segment involving The Bloodline a Miss, but this opening segment didn't work for me. I have been very complimentary of WWE for doing different types of openings for Raw since August, but I have also said that they can't do it too often. This felt like one of those situations. The more frequently you start the show off with a brawl or something unexpected, they become less special. It seems like WWE does something like this every 3 weeks or so. It felt like they were spinning their wheels a little with the back and forth on the mic between Sami Zayn and Kevin Owens. I appreciate that they had a bunch of Raw wrestlers come out to try to strop the Bloodline from taking over the show. But the ultimate result of the segment was Adam Pearce announcing that they would all be in matches. I get that it is a hook for the rest of the show to see those matches, but that doesn't seem like a punishment. Nothing about the Bloodline suggests that they back down from fights or duck matches.
Belair vs. Bliss – MISS: This wasn't good. Until the end, it was ok. It certainly wasn't a Hit, but I'm not sure it would have been a Miss. But the end was stupid with the guys in masks appearing in the crowd to drive Alexa Bliss crazy. I have no interest in whatever they are doing with Bliss and Bray Wyatt. It seems totally disconnected with what they are doing with Wyatt on Smackdown. The non-finish which will likely lead to another (not good) match between Bliss and Bianca Belair for the Women's Title which I won't want to see. I also find it impossible to believe in the super strong Bliss being able to snap and overpower Belair like that.
Sikoa vs. Elias – MISS: If you are trying to punish Solo Sikoa, making him face a loser like Elias isn't the way to go. WWE needs some depth on Raw and this show was missing a guy like Bobby Lashley in a big way. I groaned when this match was announced. I don't like how long it took for Sikoa to bean Elias. The music city street fight gimmick was lame. Nothing about this made me change my mind from my initial groan.
The Usos & Zayn vs. The Street Profits & Owens – HIT: That was a bad first hour plus of Raw. Finally things started to pick up with this six man tag. This was a good match which isn't surprising given the talent of these six wrestlers. It was interesting how they played up how Montez Ford was distracted because his wife had been taken to a hospital earlier in the show. I'm curious to see how much we see of their marriage on Raw going forward. It was a good touch for sure. I like how he snapped out of it and used it as motivation to go after his opponents. The fact that the match ended after interference from Sikoa was not surprising, but disappointing. What happened to the wresters from the opening segment? They couldn't show up because Sheamus and Drew McIntyre were going to do a save, but how did the other Raw wrestlers know that?
Gable vs. Lumis – HIT: I am giving this match a Hit for only one reason – there was no sight of The Miz, Bronson Reed or most importantly, Johnny Gargano. Please let this be the start of Dexter Lumis being on his own. I hope his feud with Miz is over. And again most importantly, please move Gargano onto something more serious and important!
Cody Rhodes Video – HIT: I have fond memories of the rehab videos that WWE used for Triple H all those years ago when he was getting ready to return at the Royal Rumble after his torn quad. This was presumably the first in a similar series of videos to hype Cody Rhodes' return. He got a huge reaction in his brief run before his injury last year. Hopefully, he gets a big reaction and push after his return and these videos can help set that up.
Becky & Michin (ugh) vs. Kai-en-Sky – HIT: The good direction of Raw after the bad start continued with this match that began as a handicap match with Becky Lynch taking on the Women's Tag Team Champions, Dakota Kai & Io Sky. Wanting the handicap match fit in with Lynch's character and made her look tough. She got in some offense early, but I was happy that the Tag Champs were able to take control leading to the former Mia Yim coming out to become Becky's partner (I loved how Bayley questioned what was happening as it didn't make sense that she would be able to join the match). The second half of the match was good with Michin taking the loss which was the right way to go to keep the Champions and Becky strong.
Dominik Mysterio – HIT: I still think it is cheesy to have these videos of Dominik Mysterio and Rhea Ripley showing up at Rey Mysterio's holiday gatherings, but at least this one led to a great video introducing us to Prison Dominik. This was hilarious. Dominik is playing his part to perfection. He still isn't good enough in the ring, but at least he's carrying his part outside of the ring very well right now.
Theory vs. Rollins – HIT: WWE Raw would have been much better if it had been a 2 hour show, specifically the last two hours. It ended strong with the main event United Stated Title match between Austin Theory and Seth Rollins. It went 23 minutes and felt like a big deal. It had good action throughout. They played into a leg injury for Rollins which he sold well. The ending was overbooked with the ref bump and a tease of a second ref bump allowing Theory to hit Rollins with a low blow leading to him getting the win. Raw was a bit of a downer in terms of the heels standing tall. Heels won most of the matches, Bliss stood tall, and the "punished" Bloodline won both of their matches (although Sheamus & Drew stood tall in that situation).
Jon Mezzera is PWTorch.com's WWE Hits & Misses Specialist, providing his point of view for Raw and Smackdown each week. Email him at jmezz_torch@yahoo.com.
---
CATCH-UP: Mercedes Mone makes first public comments since making New Japan debut