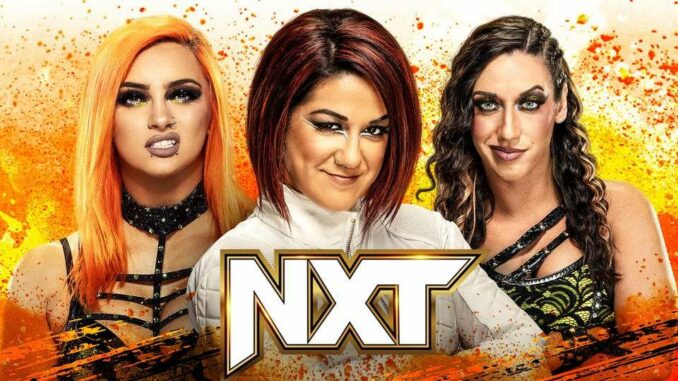 ---
SPOTLIGHTED PODCAST ALERT (YOUR ARTICLE BEGINS A FEW INCHES DOWN)...
---
SOL RUCA vs. ZOEY STARK
Stark is clearly on a path for success after this victory over Sol Ruca tonight. She was already on a great path before her impressive showing at the Royal Rumble and things have only just begun for Stark. She's a big, bad, believable heel which can be difficult to pull off as effectively as I feel like Stark has.
Sol Ruca, while on the losing side of this match, is also somebody that the WWE brass must have their eyes on. She's seemingly over with the crowd, has proven viral social media success, and has the talent to back it up.
They put on a fantastic, albeit short, match where we saw Stark pick up the win. But Sol Ruca hit the Sol Snatcher after the bell rang, leaving Stark laying in the ring to close the segment.
Verdict: HIT
DABBA KATO vs. DANTE CHEN
Dabba Kato returned at Vengeance Day and attacked his former tag partner from the main roster, Apollo Crews. We saw him in action tonight against my PWT Talks NXT Co-host Bruce Hazelwood's favorite wrestler of all time, Dante Chen.
This was what I like to call the "NXT squash match." A match where the jobber gets in just a smidge of offense to make you think he has a chance, but then gets crushed in the end.
After the match, an interviewer asked Kato why he attacked Crews at Vengeance Day. Kato said "He knows what he did, that's why I dropped his ass" and stormed off. Strangely, I'm actually kind of intrigued by this angle. I couldn't stand the awful Nigerian Prince and Commander gimmicks they had on the main roster. But now, we get to see some continuity and a payoff from that angle play out with gimmicks that are much more believable. I wouldn't sleep on this angle just yet.
Verdict: HIT
ISLA DAWN vs. TATUM PAXLEY
Earlier in the night, we saw Isla Dawn and Alba Fyre accuse Tatum Paxley of being the one to attack Nikkita Lyons a couple weeks ago. This lead to a match tonight.
Isla Dawn and Alba Fyre are going to make for a great tag team in the women's division. Not only are they talented in the ring, but their gimmicks are both pretty intimidating. They almost remind me of the Brothers of Destruction where they are both so dark and brooding.
As we saw with Kato vs. Chen, this was also somewhat of an NXT Squash. Paxley got in a bit of offense, but with Fyre and Dawn on the rise in NXT it was very clear who would be walking out victorious.
Verdict: HIT
JD McDONAGH vs CARMELO HAYES
Earlier in the night, Trick Williams and Carmelo Hayes made their way to the ring and Carmelo addressed his appearance at the end of the Vengeance Day main event. He wants a shot at the NXT title. McDonagh came out and took issue with this, leading to a match later in the show.
This match was just as good as you think it would be. Two incredibly polished NXT talents doing what they do best. Easily the match of the night.
It only got better when Ilja Dragunov made his return to NXT right before Melo's win. He made an attempt to attack McDonagh, who was the one put him on the shelf for the last few months. McDonagh vs. Dragunov? That I can get behind!
Verdict: HIT
VALENTINA FEROZ vs . LYRA VALKYRIA
What a pleasant surprise this match was. This was a short match that really existed to further Feroz's story, but what little action that did take place was fantastic.
Elektra Lopez, who has been trying to break Feroz bad over the last couple months, made her way to the ring and snuck Feroz a pair of brass knucks. Feroz chose to try and use them, but hesitated in her decision. That hesitation gave Valkyria the chance she needed to secure the win.
Verdict: HIT
STACKS vs. ODYSSEY JONES
So nice to see Odyssey Jones in action, it feels like it's been months since he's laced up his boots.
The "Underboss" of the D'Angelo family actually able to take care of business and bring the big man down. I'm really beginning to wonder where D'Angelo goes with his family. He went from having seven people in his faction to just one. It's hard enough to do a mafioso-esque storyline when you have The Bloodline on the main roster. But it's even harder when you call yourselves a stable and are just a tag team.
I thought that this might be another squash match in favor of Jones, but this was actually a somewhat competitive matchup. Stacks may stare at the lights more often than not, but he impresses me more and more each time we see him in action.
ANDRE CHASE & DUKE HUDSON vs. PRETTY UGLY
I've taken it upon myself to rename Pretty Deadly tonight. When we first saw them, we learned that they haven't slept since Vengeance day when they didn't win the fatal four way. Boy did it show. Pretty Deadly were still in their pajamas and looked like their hair hadn't touched any product in DAYS! They blamed Chase U for losing, and challenged them to a match later in the night.
Pretty Ugly wrestled like they forgot everything they'd ever learned for most of the match, until all of a sudden they proclaimed "We're back baby!" after finally getting some offense in on Andre Chase.
Towards the end of the match, Thea Hail came screaming to ringside screaming, "They're coming for me!" and ran to Chase U's corner for protection. She looked absolutely horrified and we never did find out who were after her.
Gallus also made their presence known after Pretty Ugly got their win, seemingly acknowledging them as the new challengers for the NXT Tag Titles.
Verdict: HIT
DING DONG, HELLO TOXIC ATTRACTION
Bayley made her return to NXT tonight to host "Ding Dong, Hello" with two special guests, Gigi Dolan and Jacy Jayne. Of course, the topic at hand was the issues between the two of them.
At first, Bayley looked like she was able to help them reconcile. But at the end of the segment, Gigi Dolan threw herself through the Ding Dong, Hello door! I can't believe she did that to herself. Almost as if she was channeling Marty Janetty and the barbershop window! Jokes aside, Jayne attacked Dolan and sent her through the door, cementing the breakup of Toxic Attraction.
The segment itself seemed a bit rushed, maybe they were short on time at the end of the show? Seeing Bayley back in NXT is always a treat, and she played her role well.
Verdict: HIT